U.K. Conservatives Open a 17-Point Lead Over Labour Opposition
by
ICM poll puts Labour support just above level seen under Brown

Suggests immigration clampdown went down well with voters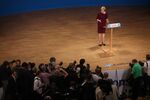 The U.K.'s governing Conservative Party has a 17-point lead over the opposition Labour Party in a poll by ICM Ltd. for the Guardian newspaper.
The lead is the biggest since Gordon Brown was Labour prime minister at the height of the financial crisis. Theresa May's party saw its support rise 2 percentage points to 43 percent, while Labour's Jeremy Corbyn presided over a 2-point drop to 26 percent. That's just 1 point above the all-time low seen under Brown.
The online survey was carried out between Friday and Sunday, after the Tories held their annual conference. It suggests their proposed clampdown on foreign workers wanting to work in the U.K. has gone down better with the general public than investors, who sent the pound to its worst week since the June referendum on European Union membership amid fears that Britain is ready to accept reduced access to the EU single market to gain control over immigration.
The findings echo a YouGov Plc poll last week that found 59 percent of the electorate support policies to restrict migration. The Conservatives may also have benefited from a fall in support for the U.K. Independence Party following a scuffle in the European Parliament that left leadership hopeful Steven Woolfe in hospital.
Meanwhile, divisions remain in the Labour Party, with two members of Parliament resigning from the shadow whip's office on Sunday as Corbyn reshuffled his top team following his re-election last month.
Before it's here, it's on the Bloomberg Terminal.
LEARN MORE