Taiwan's Tsai Urges Talks With China, Calm on Cross-Strait Issue
by
Reiterates that Taiwan will not bow to pressure from China

Tsai said Taiwan will keep communication with Beijing open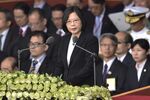 Taiwanese President Tsai Ing-wen repeated calls for talks with China as soon as possible and said leaders on both sides should address cross-strait issues with wisdom, flexibility, and a "calm attitude."
"Anything can be included for discussion, as long as it is conducive to peace and welfare for people on both sides," Tsai said Monday in Taipei in her first national day address after her inauguration on May 20. She reiterated that Taiwan will not bow to pressure from China.
Taiwan's relationship with its former civil war rival has grown increasingly strained since January, when Tsai swept the more China-friendly Kuomintang from power in a landslide election win. The president, whose Democratic Progressive Party was founded with independence as a goal, has drawn Beijing's ire by refusing to adopt her predecessor's stance on negotiations across the Taiwan Strait.
Tsai said Taiwan will keep communication with China open and both sides should cherish their achievement since the 1992 talks that established a framework for their relationship. Taiwan's goodwill on cross-strait relations hasn't changed, she said.
Taiwan's national day holiday, known as "Double Ten" as it falls on 10th day of the 10th month, highlights the shared history between the two rivals, commemorating an uprising that precipitated the end of the Qing Dynasty and the establishment of the Republic of China. Kuomintang leader Chiang Kai-shek moved the government to Taipei in 1949 as the Communists took charge on the mainland, setting up the stalemate the endures to this day.
'One China'
The Chinese government, which considers Taiwan a province, has ratcheted up pressure on Tsai, reaching out to the island's few allies and repatriating scores of Taiwanese fraud suspects from foreign countries. The Taiwan Affairs Office in Beijing said last month that Taiwan lost its guest status with the International Civil Aviation Organization, a United Nations group that oversees flight standards, because Tsai won't affirm that both sides are part of "one China."
"Although cross-strait relations have seen certain ups and downs in the past months, our position remains consistent and firm," Tsai said. She reiterated her pledge to maintain the status quo, adding that "we will not bow to pressure, and we will of course not revert to the old path of confrontation."
Rock Solid
After Tsai told the Wall Street Journal last week that Taiwan "will not succumb to pressure from China," the Chinese government responded by reaffirming that the mainland's determination to safeguard sovereignty and territorial integrity remains rock solid and that the one-China principle is unshakable.
Exports to Mainland China accounted for almost 40 percent of Taiwan's total shipments in the first nine months of this year, according to the island's Ministry of Finance. Taiwan's gross domestic product is expected to grow 1 percent this year, according to the economists surveyed by Bloomberg. That would be the slowest pace among the economies once known as the "Asian Tigers," including Hong Kong, Singapore and South Korea.
Tsai is trying to jump-start the economy by investing in infrastructure and renewable energy. The cabinet in August proposed a 3.1 percent increase in public works spending and the island's top economic planning body last week announced a NT$57.1 billion ($1.82 billion) five-year upgrade of international ports, such as Kaohsiung and Keelung.
Before it's here, it's on the Bloomberg Terminal.
LEARN MORE