Germany Cites Islamic State Link in Syrian's Suspected Bomb Plot
by
Plan modeled on Paris-Brussels attacks, interior minister says

Merkel grateful to Syrians who turned in suspect: spokeswoman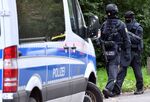 A 22-year-old Syrian arrested in Germany for allegedly preparing a terror bombing may have had links to Islamic State and modeled his plan on the attacks in Paris and Brussels, government officials said.
Jaber Albakr, 22, was taken into custody in Leipzig early Monday, ending a weekend manhunt set off when police raided his apartment in the eastern city of Chemnitz and found the explosive TATP, the type used in attacks in Paris and Brussels, Joerg Michaelis, head of the Saxony state criminal investigations branch, told a news conference.

"The suspect's modus operandi and his actions point to an IS context at this time," Ulbig said. German authorities foiled an "imminent attack," though the intended target isn't known and is part of an investigation by federal prosecutors, he said.
Terrorism fears in Germany spiked this summer following a series of attacks in July, including a bombing at a music festival and a knife attack on a train, while a shooting spree in Munich that left 10 dead was later found to have had no political motives. As it emerged that Albakr was turned in by fellow Syrians who tied him up and called police, Chancellor Angela Merkel expressed gratitude for their help through her spokeswoman.
"Everything we know so far indicate that the preparations in Chemnitz were similar to the preparations for the attacks in Paris and Brussels," Interior Minister Thomas de Maiziere said in an e-mailed statement. "The investigation shows that the kind of attacks we've seen in France and Belgium can't be ruled out in Germany."
Last year's record influx of an estimated 890,000 asylum seekers in Germany has put Merkel on the defensive, provoked a refugee-policy conflict in her governing coalition and boosted the anti-immigration Alternative for Germany. Merkel has said that Germany was a target for terrorists even before the refugee crisis.
Albakr registered as an asylum seeker in Munich on Feb. 19, 2015, Ulbig said. The Chemnitz apartment's 33-year-old renter, who was arrested as a possible accomplice, was registered by German authorities last Nov. 25, he said.
Before it's here, it's on the Bloomberg Terminal.
LEARN MORE