markets
Saudi Arabia Times Bond to Catch Pre-Election 'Sweet Spot'
By and
Oil rises, Trump campaign stumbles to create opening

Kingdom plans investor meetings from London to Los Angeles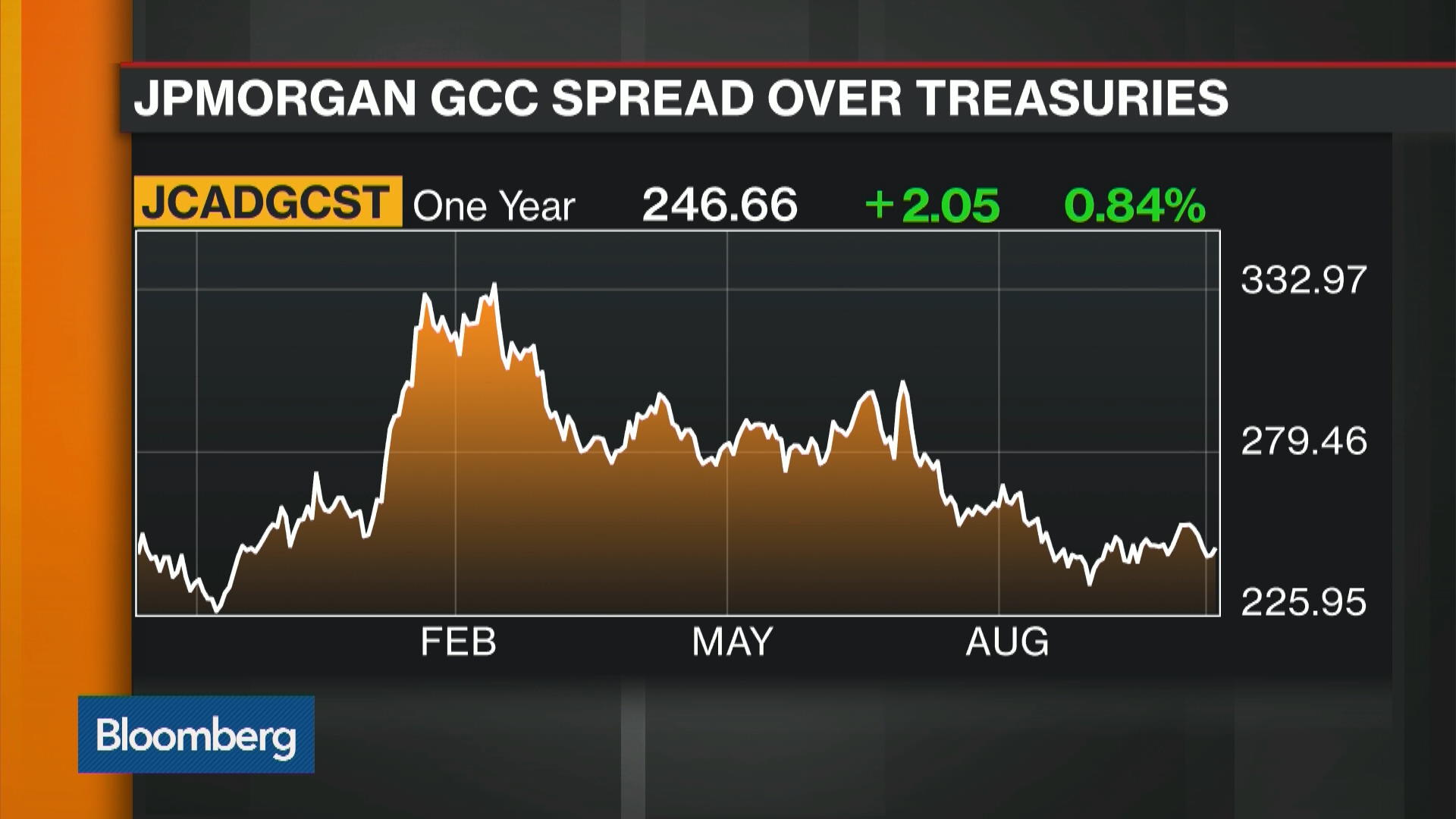 Saudi Arabia missed September's annual surge in new debt deals, but the timing for its first foray into the international bond market may prove to be just right.
As oil prices rose to a one-year high on Monday and Donald Trump's presidential bid was hit by furor over a 2005 video, the kingdom unveiled long-awaited plans to hold investor meetings in London, Los Angeles, Boston and New York from Wednesday. Saudi Arabia may sell bonds maturing in five, 10 and 30 years, joining a wave of developing nations raising cash before the November ballot and as Federal Reserve interest-rate hikes draw closer.
"It's very good timing," said Angelo Rossetto, a trader at GMSA Investments Ltd. in London, who will consider buying the longest-dated tranche. "I wouldn't say now or never as they will always have huge demand for any issuance, but the combination of oil, rates and elections make it the right time."

The meetings show that the bond sale, said to be at least $10 billion in size, hasn't been derailed by a U.S. vote last month that allows families of 9/11 victims to sue the Saudi government. The world's biggest oil-exporter is seizing on momentum from an agreement by OPEC to limit production that sent crude prices past $50 a barrel, giving it a chance to drum up cash to fill a budget shortfall near the widest in more than two decades.
For a QuickTake explainer on Saudi Arabia's struggles, click here.
Saudi Arabia hired Citigroup Inc., HSBC Holdings Plc and JPMorgan Chase & Co. as global coordinators and added seven other managers from Japan and China to Germany and France. Sovereign borrowers from the developing world including Russia and Argentina have already sold $15 billion since Sept. 1, the most since the same period in 2013, according to data compiled by Bloomberg.
The prevalence of negative rates in Europe and Japan and a slow path to tightening by the Fed has fueled demand for higher-yielding assets. Brent crude jumped 7.4 percent this month to $52.70 a barrel by 12:45 p.m. in London.
"The timing looks good since the U.S. elections are still five weeks away, the oil price is stabilizing and risk appetite is good with moderate supply in markets at the moment -- normally, a sweet spot to print a deal," said Sergey Dergachev, a senior money manager at Union Investment Privatfonds GmbH in Frankfurt, which oversees about $13 billion.
Paltry Yields
For some investors, Saudi Arabia's investment-grade rating will work as a deterrent unless the country offers yields comparable to other Gulf borrowers. 
"The deal is unlikely to favor investors on a risk-reward basis as there is still a debate as to how strong Saudi Arabia's rating should be compared to its neighbors," said Anders Faergemann, senior portfolio manager at PineBridge Investments Europe Ltd. in London. "Yields on offer are likely to be low."
Moody's Investors Service cut Saudi Arabia's credit rating to A1 in May, the fifth-highest investment grade, saying "lower oil prices have led to a material deterioration in" creditworthiness. That's seven steps above neighboring Bahrain, which sold $2 billion of bonds due in seven and 12 years last week, paying as much as 7 percent.
"I am reluctant to buy Saudi Arabia, I think there are other oil stories out there that sound more compelling," said Peter Schottmueller, the head of emerging-market and international fixed income at Deka Investment GmbH in Frankfurt, who helps manage $13 billion and holds the sovereign debt of Bahrain and Iraq. "Why buy Saudi Arabia when you can buy Bahrain sovereigns at a decent spread?"
Borrowing Spree
Debt issuance across the six-nation Gulf Cooperation Council climbed to a record $47 billion this year, according to data compiled by Bloomberg, including Qatar's $9 billion sale in May that was a record for the Middle East. Some governments in the region are on a borrowing spree to fill fiscal gaps the International Monetary Fund says could reach $900 billion by 2021.
The kingdom plans to use proceeds from the debt sale to help fund an economic transformation plan that includes reductions to allowances and bonuses of some state employees, delayed payments owed to contractors and lower fuel subsidies. The government may also sell a stake in oil giant Saudi Arabian Oil Co., or Aramco, and create the world's biggest sovereign wealth fund. The nation sees its oil reserves lasting about 70 years, according to the prospectus.
The deal comes weeks before a U.S. election that threatens to stoke market volatility. Among Trump's most inflammatory proposals, he suggested greater scrutiny of Muslims and has said he's not "a big fan" of Saudi Arabia. Over the weekend a tape surfaced in which he made vulgar remarks about women before taping a segment for "Access Hollywood," prompting some Republicans to withdraw their support.
The securities will be available to U.S. investors through Rule 144a, following inflows of about $42 billion into emerging-market bond funds this year that reversed three years of outflows, according to EPFR Global.
"This may not be too attractive long term, but short term there's a trade to jump on," said Rossetto at GMSA.
— With assistance by Archana Narayanan, Dale Crofts, Arif Sharif, and Dana El Baltaji
(
Updates with oil price in sixth paragraph.
)
Before it's here, it's on the Bloomberg Terminal.
LEARN MORE