Republicans Split Over Trump After Ryan Backs Away From Nominee
By
House speaker stops short of rescinding endorsement of Trump

Trump campaign reeling after release of vulgar audiotape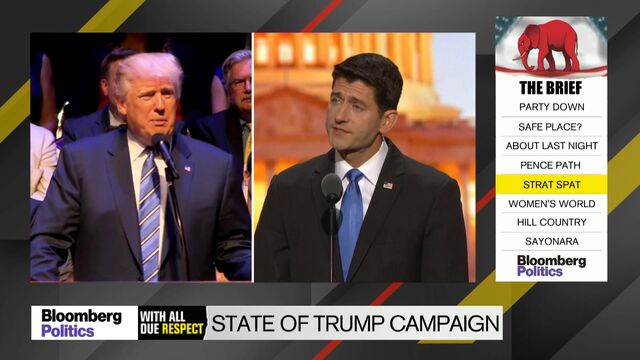 The Republican Party chairman held a hastily assembled conference call to rally members behind Donald Trump's embattled campaign, speaking only hours after House Speaker Paul Ryan told lawmakers he won't defend or campaign for the nominee after the release of a vulgar 2005 audiotape.
Reince Priebus, the chairman of the Republican National Committee, said he remained in support of Trump and nobody on the call disagreed with his position, according to Bruce Ash, an RNC member from Arizona. Earlier Monday,Trump's running mate Mike Pence also stood firmly behind the man at the top of the ticket.
Priebus and Pence were trying to rally the campaign after Ryan told House lawmakers Monday that he would ignore the national race and focus on defending the Republican majority in the House, according to three people on a GOP conference call. Ryan told members, "You all need to do what's best for you in your district," according to a person who was on the call. But he didn't rescind his endorsement of Trump.
Trump also lashed out at Ryan, with whom he's had strained relations. "Paul Ryan should spend more time on balancing the budget, jobs and illegal immigration and not waste his time on fighting Republican nominee," Trump tweeted Monday afternoon.
A senior Trump campaign adviser, Sarah Huckabee Sanders, said Ryan made a "mistake."
"This campaign has always been about a grassroots movement not Washington," she said.
14-Point Lead
The depth of Trump's troubles became clear Monday when a new poll by NBC and the Wall Street Journal -- taken after the Oct. 7 release of a 2005 audiotape where Trump described in vulgar terms unwanted advances on women -- showed Clinton with a 14-point lead in a head-to-head match-up, the largest gap so far in that survey.
Pence ended speculation Monday that he would leave the ticket, praising Trump's performance in the debate with Democratic opponent Hillary Clinton on Sunday night. Pence's reassurance of the ticket's unity was aimed at slowing the exit of Republicans backing Trump, which accelerated over the weekend.
"It takes a big man to know when he's wrong, and to admit it, and has the humility to apologize and be transparent and be vulnerable," Pence told supporters Monday at a town hall in Charlotte, North Carolina. "And Donald Trump showed last night that he is a big man."
'No Update'
Over the weekend, House and Senate Republican leaders issued condemnations of Trump that stopped short of pulling their endorsements, a trend Ryan continued on Monday.
Ryan started out the Monday conference call with rank-and-file members by saying, "I cannot defend Donald Trump," according to one Republican on the call.
But Ryan also said he's "still supporting Trump," even if he doesn't condone his actions, since the future of the Supreme Court and other issues are at stake in this election, the person recounted. At the same time, Ryan said he won't be traveling with Trump or appearing with him through the remainder of the election season.
The Clinton campaign quickly pounced, saying Republicans are too late in trying to distance themselves from Trump.
"Somewhat of a civil war is breaking out in the Republican Party, but I think that Donald Trump didn't become the nominee of his party on his own," Jennifer Palmieri, a Clinton spokeswoman, told reporters Monday afternoon. "These leaders help legitimize him and I think they have a lot to answer for and the voters I imagine will hold them accountable" in House and Senate races."
Ryan's remarks caused some confusion for House Republicans on the conference call, according to a participant. At one point in the call, some conservatives, including Representative Dana Rohrabacher of California, asked Ryan whether he was withdrawing his endorsement of Trump? 
Ryan replied "no," according to other people on the call.
No member took the occasion to announce they were going to rescind their backing of Trump, or call on others to do so. But Representative Charlie Dent of Pennsylvania -- a leader of House centrists who hasn't endorsed Trump -- was among those who decried the damage Trump is doing to the party, said a person on the call..
'Fight Is On'
Representative Greg Walden of Oregon, chairman of the National Republican Congressional Committee, used the opportunity to tell House Republican colleagues to pay up on all their outstanding party dues, saying "the fight is on" to protect the House majority, according to one Republican.
Ryan had in June ended his own high-profile delay in endorsing Trump for president amid mounting pressure that left him increasingly isolated within the Republican Party. But that didn't curtail the continuing of his and Trump's tense and awkward relationship, often set off by controversial remarks and actions by the New York billionaire.
Now, Ryan is trying to forge the a path forward toward Election Day, as he finds his party awash in turmoil and worry over damage to prospects for keeping control of both chambers of Congress, and longer term repercussions, including the 2020 presidential race.
Most of the attention prior to the surfacing of the audio tape of Trump's sexually aggressive remarks had been focused on his impact on the races that would determine control of the U.S. Senate. 
Senators Split
After the tape, vulnerable Senate Republicans were split between rejecting their party's nominee and trying to distance themselves from Trump without alienating his fervent supporters.
Arizona Senator John McCain withdrew his support for Trump on Saturday, saying he would write in a "good conservative Republican." New Hampshire Senator Kelly Ayotte and Nevada Representative Joe Heck, a Senate candidate, both called on Trump to step down. 
Other senators facing tough re-election races are still standing by Trump, including Senator Roy Blunt of Missouri, who is neck and neck in polls with Democratic opponent Jason Kander, and Senator Richard Burr in North Carolina, who is struggling to put away a tougher-than-expected challenge from Deborah Ross.
House Margin
On the House side, Republicans hold a 246-186 seat hold, the largest Republican majority since 1928. 
Political analysts outside and within the party had been predicting before this weekend that Republicans could see a net loss of about 14 seats. But there's more concern now by Republicans that Trump-related damage could now spill over in greater losses in House seats.
Regarding whether Ryan is maintaining his endorsement, AshLee Strong, a Ryan spokeswoman, said in a statement that "there is no update in his position at this time."
"The speaker is going to spend the next month focused entirely on protecting our congressional majorities," Strong said in a statement Monday.
— With assistance by Arit John, Justin Sink, and Kevin Cirilli
Before it's here, it's on the Bloomberg Terminal.
LEARN MORE