Rimsevics Says Governments Must Reform Economy as ECB Buys Time
by
Latvian central-bank governor speaks in Bloomberg TV interview

ECB policies create favorable conditions for governments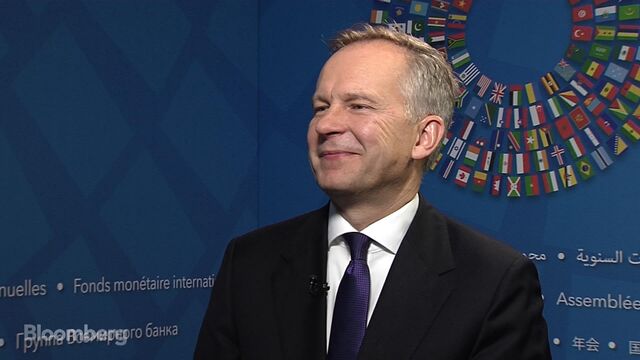 European Central Bank stimulus has given politicians time to strengthen their economies, and they must use it immediately, Governing Council member Ilmars Rimsevics said.
"We are buying time for politicians to do structural reforms and unfortunately this time, it may be running out,'' Rimsevics, who heads Latvia's central bank, said in a Bloomberg TV interview with Francine Lacqua on Oct. 8 in Washington. Inflation will pick up over the next couple of years and "most probably there will be less possibility for central banks to support easy monetary policy," he warned.

The Frankfurt-based ECB has pushed rates below zero and swelled its balance sheet with purchases of public and private debt, and its forecasts suggest inflation will return to the goal of just under 2 percent in late 2018 or early 2019. Rimsevics said that as central banks approach the limits of their stimulus, governments are finally realizing that they can't rely on monetary policy to single-handedly create economic growth.
"It's an educational process,'' he said. "It's remarkable that finally we're recognizing that we cannot simply continue to print and print and print, and hope that one day the economy will recover."
ECB President Mario Draghi has been stepping up his warnings that governments must take action to improve productivity in the euro area and raise the long-term growth potential of the currency bloc. Also in Washington, where he attended the annual meetings of the International Monetary Fund and World Bank, he said on Oct. 7 that ultra-loose monetary stimulus has created a "unique window of opportunity" to implement structural adjustments.
Before it's here, it's on the Bloomberg Terminal.
LEARN MORE