Pence Doubles Down on Defense of Trump in First Event Post-Video
At a town hall event in North Carolina, Pence makes it clear that he is not dropping out of the race.
By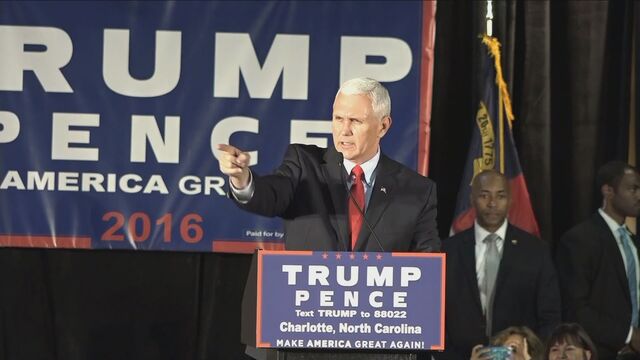 Republican vice-presidential nominee Mike Pence offered a full-throated defense of Donald Trump days after the release of a video that captured Trump making lewd comments about women, citing his running mate's dedication and his own Christian faith. 
"It's been an interesting few days," Pence said at a Monday town hall in Charlotte, North Carolina. "But I gotta tell you, I'd join this campaign in a heartbeat, because you have nominated a man for president who never quits." 
Pence maintained that he doesn't condone what Trump said, "but the other part of my faith is I believe in grace." 
The rally marked Pence's first campaign event since Trump's hot-mic video was released Friday. In the 2005 clip, Trump boasts about being able to do what he wants to women because of his fame, including "grab them by the pussy."
Pence on Saturday released a statement saying he was offended by Trump's comments and then cancelled several campaign events, including one with Speaker of the House Paul Ryan. Further friction between the two men emerged when Trump said during Sunday's second presidential debate that he disagreed with Pence's strategy to address Russia's actions in Syria. 
But Pence congratulated Trump via Twitter Sunday night for a strong debate performance and, during Monday morning TV interviews, said that rumors he sought to leave the Republican ticket were "absolutely false." 
In Charlotte on Monday, Pence called Trump a "fighter" and a "winner," and praised him for showing vulnerability and humility on the debate stage when he addressed the comments in the video. 
"It takes a big man to know when he's wrong, and to admit it, and has the humility to apologize and be transparent and be vulnerable," Pence said. "And Donald Trump showed last night that he is a big man." 
Audience members at the town hall said their support for Trump was unchanged by the video, and cited many of the defenses the campaign used. Some said that men talk like that in private all the time, while others said that Trump's words weren't as bad as the accusations of rape and sexual harassment levied against former President Bill Clinton.
"Frankly, if we put microphones and smartphones in everybody's bedroom and everybody's living room and what people say at the dinner table, where would any of us stand?" said Sharine Buchanan, a 39-year-old unemployed woman from North Carolina's Iredell County.
Jean Crawley, a 77-year-old retired medical technician from Denver, North Carolina, said that while she found the comments "disgusting" as a conservative Christian, her support for Trump was based on his policies. 
"Trump is not a Christian, so he doesn't profess the same things," Crawley said. "We're not looking for a pastor to run the country, we're looking for someone that's strong, knows the tax code, knows how to get jobs into the country."
Supporters at the rally were also critical of Republican leaders who over the weekend announced that they would not support or vote for Trump.
"They jumped the gun," said Lucille Ehlers, a 55-year-old homemaker from Matthews, North Carolina. "They couldn't wait a day or two before they denounced him? Shame on them." Ehlers praised North Carolina Senator Richard Burr, who is in a tight re-election campaign against Democrat Deborah Ross, for not withdrawing his support. 
As other Republican lawmakers abandon Trump, he continues to draw support from those who see him as the candidate who'll bring the most change to Washington. Hayley Derryberry, a 30-year-old filmmaker from Charlotte, said that she tuned out Pence's religious defense of Trump and, while she plans to vote for him, she doesn't like him. 
"I never cared for Donald Trump as a person and I still don't. I don't think he's a very nice person," Derryberry said. "While he's maybe a jerk, he seems to be an honest jerk."