OPEC Is Still Some Way Off an Oil Deal With Russia, Norway Says
by , , , and
'Bit early to start celebrating' amid OPEC differences: Lien

Optimism of Saudis, Russians sent oil prices higher on Monday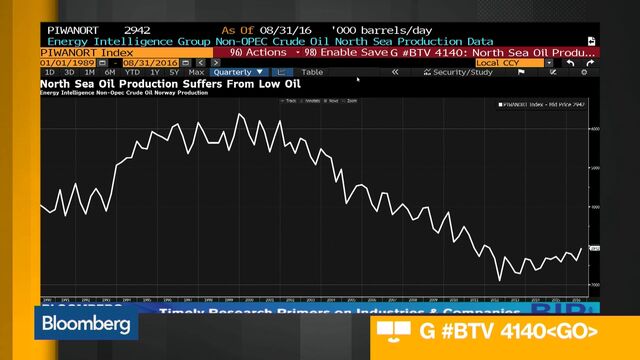 Norway, western Europe's largest oil producer, said OPEC is still some way off forging a deal to limit supply even as optimism from Saudi Arabia and Russia sent crude prices higher.
"It's a little bit early to start celebrating an agreement," Tord Lien, Norway's petroleum and energy minister, said Monday in an interview with Bloomberg Television. "The difference between the OPEC countries is probably larger today than it has been earlier."
Members of the Organization of Petroleum Exporting Countries, who surprised markets in September when they agreed to rein in output, have yet to decide on individual quotas before a meeting in Vienna next month. Saudi Energy Minister Khalid Al-Falih said Monday he'll talk with OPEC nations and other producers and is "optimistic" about reaching a deal by the end of November, while President Vladimir Putin said Russia was ready to join the effort.
"They have made great progress, and this could end up in an agreement that will materialize around Christmas and the first quarter of next year," Lien said. "We have to give OPEC credit for having balanced unbalanced markets on many occasions before."
Rising Crude
OPEC last decided to reduce output in 2008 during the global financial crisis, agreeing on a record cut that reversed a collapse in crude prices. On Monday benchmark Brent futures rose as much as 3.5 percent to $53.73 a barrel, a one-year high but still more than 40 percent below their level two years ago.
An attempt by producers to freeze output in April failed as Saudi Arabia refused to proceed without the participation of Iran, which insisted on its right to restore output lost to years of international sanctions.
Norway, which isn't an OPEC member, has said it has no intention of joining any international production agreement as it's pumping about half as much oil as in 2000. The country's Conservative-led government is budgeting for crude at an average price of about $52.50 a barrel next year. Saudi Arabia's Al-Falih said Monday that a return to $60 wasn't "unthinkable" by the end of 2016.
Before it's here, it's on the Bloomberg Terminal.
LEARN MORE