World-Beating FTSE 100 Seen Struggling to Hold Record
by
FTSE 100's valuation about 30% greater than its 5-year average

Benefits of lower pound are already priced in, UBS says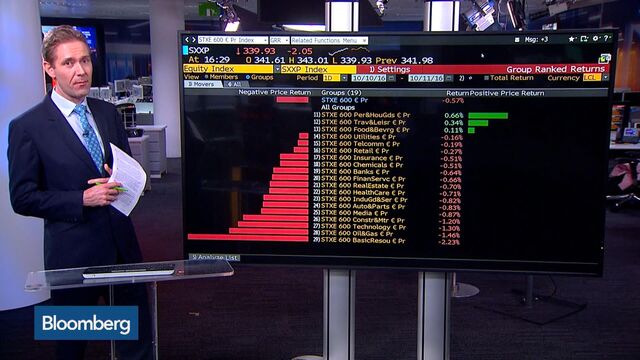 The biggest stock-market rally in the developed world is going to lose traction before the year is up.
So say all nine strategists tracked by Bloomberg, who on average predict a 5.6 percent drop in the FTSE 100 Index by December. A rebound in commodities and a slumping pound since the U.K.'s secession vote have spurred a 13 percent surge in 2016 for the gauge, whose members get most of their revenues from outside the country.
Concerns that the government's approach to Brexit will preclude single-market access to the European Union spurred fresh declines in sterling this month, helping propel the FTSE 100 to an intraday high of 7,129.83. But while economic releases in the aftermath of the referendum have showed resilience, forecasters are questioning the sustainability of a rally underpinned by the currency move.
"The sterling effect can't last forever, and I don't see where else we could get meaningful momentum from," said Tim Rees, director of U.K. equities at Insight Investment Management in London. His firm oversees about 400 billion pounds ($495 billion). "It won't be the economy, that's for sure. There are too many uncertainties out there about how Brexit will pan out, but we won't really get more information before the end of the year."

The benefits of the lower pound have already been baked into profit estimates for FTSE 100 companies, which get about three-quarters of their sales from overseas, according to a UBS Group AG note dated Oct. 7. Strategists at the bank are among the most bearish, seeing the FTSE 100 fall 8.1 percent by December. While negotiations for a so-called "hard exit" from the EU are likely to put further pressure on the currency, lower wages would also weaken domestic demand and contribute to a slowdown in growth, according to UBS.
Since the referendum, data including those on manufacturing and the services industries have beaten forecasts, and the International Monetary Fund raised its growth outlook for the nation last week. Analysts have tempered their estimates for profit declines at FTSE 100 companies, while reducing projections for European and U.S. benchmarks. Net income at U.K. megacaps is forecast to contract 2.1 percent this year, versus June estimates for an 8.5 percent slump.
That's pushed the valuation for the U.K. gauge to more than 17 times its members' projected earnings for the year, an almost 30 percent premium to its five-year average. The Stoxx 600 trades at 16, data compiled by Bloomberg show.
Some FTSE 100 companies that don't have much to gain from the lower pound have still benefited from the index's broad rally, UBS said, citing examples including Scottish insurer Standard Life Plc, grocer Tesco Plc and homebuilder Barratt Developments Plc. Shares of the three firms, which depend on the U.K. for the majority of their sales, have jumped 30 percent or more since June 27.
Most strategists surveyed by Bloomberg kept their year-end targets unchanged from September. Barclays Plc and Societe Generale SA, the least bearish, are calling for a 1 percent slide by December. In dollar terms, the FTSE 100 is actually down 6.2 percent this year, worse than the Stoxx 600 and the MSCI All-Country World Index.
"It's turned out to be a pretty good year for the FTSE 100, but you have to argue that it's not for good reasons," said Insight Investment Management's Rees. "It's a consequence rather than a desire, in that sense. The FTSE 100 is unlikely to stay meaningfully above the 7,000 level."
(
Corrects second-to-last paragraph in story published Oct. 11 to reflect correction of Barclays forecast in strategist table.
)
Before it's here, it's on the Bloomberg Terminal.
LEARN MORE