Mexico Peso Jumps as Lewd Video Puts Trump Campaign on Defensive
By and
Peso is world's best performing currency since first debate

Mexico's foreign-exchange rate seen as election barometer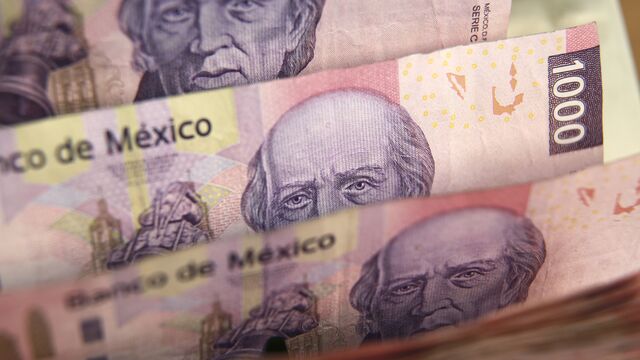 The Mexican peso posted the biggest gain among major currencies after Hillary Clinton and Donald Trump exchanged barbs in the second U.S. presidential debate following the emergence of a 2005 video on which the Republican candidate speaks crudely about women.
The peso jumped 2.2 percent to a one-month high of 18.8853 per dollar as of 1:17 p.m. in New York, helping push the country's benchmark stock index to the world's biggest gains as well. Trump dismissed his vulgar comments as "locker room talk" and attacked Clinton over her e-mail use and tax plan, while the Democrat candidate highlighted her career in public service and said her opponent was unfit to be president.
The peso has been a barometer of investor anxiety about the November election, falling when Trump advances in polls and gaining when he slumps. The currency climbed early in Asia trading, before the debate began, after some Republican party members called on Trump to quit the race in the wake of the video in which he talks about groping women and trying to seduce someone who is married. The exchange rate has gained 4.8 percent since the first debate Sept. 26, the most in the world, as polls showed Clinton gaining support.
"The market reaction has this takeaway that Trump's campaign is struggling," John Hardy, Saxo Bank's head of foreign-exchange strategy, said in a Bloomberg Television interview from Hellerup, Denmark. "The market has seized upon this as trading the Mexican peso as some kind of financial market proxy for the political outcome of the election."
Hardy warned that it's too early to draw conclusions about what the outcome of the ballot will be, citing the surprise traders experienced when Britain voted to leave the European Union in June. With less than a month before the U.S. vote, options contracts on the peso's price around Nov. 8 are showing the highest volatility expectations in about five years.

In a quick telephone poll conducted by CNN immediately after the debate, 57 percent of registered voters who watched said Clinton won the debate, while 34 percent said Trump did (the margin of error was plus or minus 4 percentage points). In a YouGov poll of registered voters who watched, 47 percent said Clinton won and 42 percent said Trump won (margin of error: plus or minus 3.9 points).
"What looked primarily like an odd debate full of personal attacks coming from both candidates was seen with a friendly eye from markets as the latest polls show Hillary Clinton cementing her lead into" the Nov. 8 election, strategists at Banco Bilbao Vizcaya Argentaria SA including Alejandro Cuadrado wrote in a report. The peso "seems cheap considering EM demand, higher oil, carry and the swings in U.S. election expectations observed over the past six weeks."
Mexico's benchmark IPC stock gauge rose 3.7 percent in dollar terms, led by rallies in lender Grupo Financiero Banorte SAB and bottler Fomento Economico Mexicano SAB.
"Investors are seeing that Trump, little by little, is losing followers and support because of actions that don't have anything to do with politics, but, rather, which speak to his character," said Rogelio Ramos, an equity sales trader at Interacciones Casa de Bolsa SA in Mexico City.
The rally in oil is also a big driver for Mexican stocks Monday, according to Banorte analysts led by Juan Carlos Alderete, after Saudi Arabia expressed optimism that OPEC will work out a deal with other producers.
Trump, 70, said he has no intention of quitting the race. He threatened if elected to appoint a special prosecutor to investigate Clinton for her use of a private e-mail server while secretary of state.
In response to Trump's remarks on her e-mail, Clinton said she took responsibility for it and called it a mistake.
 
The peso posted the worst losses among major currencies in September as polls showed Trump gaining on Clinton, sparking investor concern that Mexico's economy could be upended if he followed through on campaign pledges to renegotiate the North American Free Trade Agreement and deport millions of undocumented immigrants.
It has lost about a third of its value in the past two years as a plunge in oil prices raised concern about government finances and prompted Moody's Investors Service and S&P Global Ratings to put a negative outlook on Mexico's credit rating.
In the week prior to the first debate, net short positions on the peso jumped to the highest in more than 20 years of data. Traders are now slightly more optimistic, but bullish bets haven't outnumbered bearish ones since April 2014.
The peso's real effective exchange rate -- its trade-weighted value versus a basket of other major currencies, adjusted for inflation -- shows it's undervalued compared with historical norms. The measure fell to the lowest since 2009 on Sept. 26, according to a Barclays index, before rebounding slightly. It's still 14 percent below its five-year average.
Central bank Governor Agustin Carstens said in a Sept. 30 interview that the peso, by any measure, is undervalued. While he said he was comfortable with current interest rate levels, an extraordinary event, such as a victory for Trump, could spur a rate hike.
— With assistance by Lilian Karunungan, Y-Sing Liau, Filipe Pacheco, Arif Sharif, Guy Johnson, Caroline Hyde, Andrea Jaramillo, and Michelle Davis
Before it's here, it's on the Bloomberg Terminal.
LEARN MORE