May's Brexit Tone Heard by Euro Finance Chiefs Bracing for Talks
By
Britain's choice is for a 'hard Brexit,' says Dijsselbloem

Negotiations 'should be cooperative,' says France's Sapin
Euro-area finance ministers said the British government's tougher tone on immigration suggests a readiness for far looser ties with the European Union, as they stressed the need for its exit talks to be cooperative.
"They won't get just the cherry-picking part of the deal," Jeroen Dijsselbloem, who leads the group of euro-region finance ministers, told reporters in Luxembourg as he arrived to chair a gathering of his counterparts. "That's my message to them, and I think it's their choice. That's my understanding of the speech of the British prime minister, it's their choice to go for a hard Brexit."
Brexit is proving a persistent distraction to the ministers, who are meeting after the most tumultuous week since the U.K. vote on June 23 to leave the bloc. The pound fell to the lowest since 1985 after a pledge by Prime Minister Theresa May to notify the EU by March of Britain's exit, and remarks pointing to her government's readiness for an abrupt departure from the bloc.
"Up until now, it seems to me that a 'hard Brexit' approach has been taken more on the other side of the Channel than this one," said French Finance Minister Michel Sapin. "Brexit has been decided, it will happen and we shouldn't lose time," he said, before adding that "negotiations should be cooperative."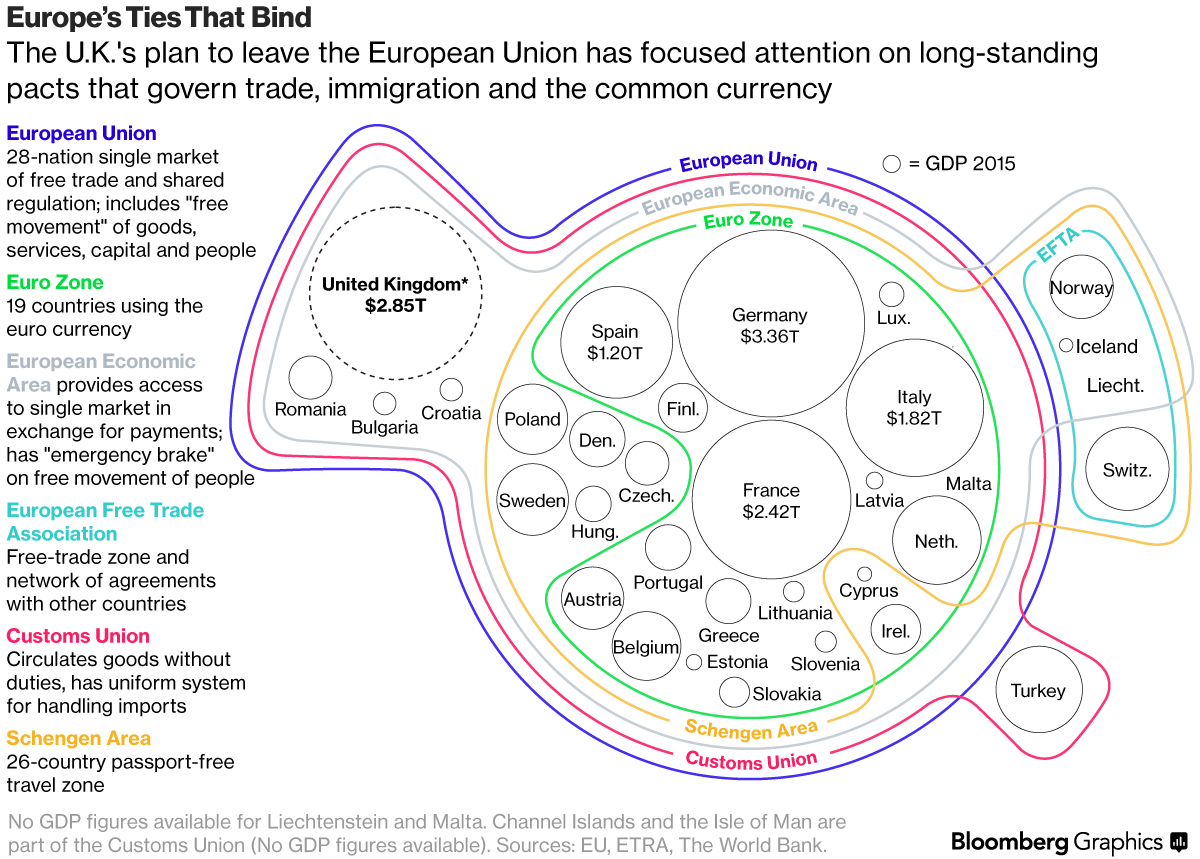 Dijsselbloem, who is also the Dutch finance minister, suggested that the U.K.'s position isn't necessarily inclined toward a mutually beneficial outcome.
"I would be in favor of having an agreement as quickly as possible, even though it will take a lot of time, an agreement that is beneficial for all of us," he said. "But that's not the signal I've heard."
Pierre Moscovici, the European economics commissioner, struck a conciliatory tone, calling for a "clean" negotiation.
"It must not be a punishment for Great Britain, or British citizens," and "it must not be a punishment for the citizens of the rest of the EU," Moscovici said. "Even if the U.K. is no more, in some years to come, a member of the European Union, it will remain a very important European country."
Many ministers attending the meeting had just been to the International Monetary Fund and World Bank meetings in the U.S. capital, where the IMF noted "a fraying consensus about the benefits of cross-border economic integration."
"From what we heard in Washington, we are concerned about the anger out there, all over the place," said Maltese Finance Minister Edward Scicluna. "It includes hard Brexit. It includes populist parties all over Europe, whatever is happening. It looks like people are dissatisfied."
— With assistance by Rainer Buergin, Ian Wishart, Jonathan Stearns, Radoslav Tomek, Stephanie Bodoni, Caroline Connan, Richard Bravo, and Corina Ruhe
Before it's here, it's on the Bloomberg Terminal.
LEARN MORE