How Trump Survived His Second Debate, By the Numbers
By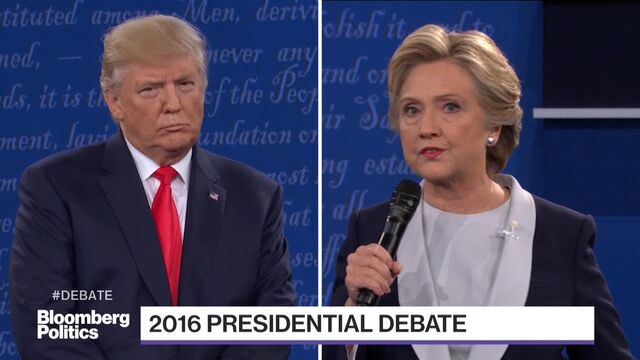 Sunday's presidential debate ended with Hillary Clinton and Donald Trump naming one positive thing they respect in each other. But first came more than an hour of brutal political warfare. 
Eighty interruptions whizzed among Clinton, Trump, and the moderators during the 90-minute debate, during which Trump tried to stem the political crisis set off when a video surfaced Friday of him speaking about women extremely crudely in 2005.
Both campaigns declared victory as CNN and YouGov polls reported Clinton the winner and Trump's chances of getting elected barely budged in betting markets.

Nine of Trump's 13 interruptions of Clinton came during a tense exchange over her e-mail server, including when he said she'd "be in jail" if he were president. Trump was on the receiving end of 34 interruptions from the moderators.

Prediction-market aggregator PredictWise found Trump's chances move from 12 percent at the start of the debate to 14 percent at the finish, after falling from about 20 percent Friday on the video's release.
Compared with Trump's written and videotaped apologies Friday, the debate featured him using more contrite language. "I apologize" and "I'm not proud of it," he said. However, he also used increased justification language—e.g., "it's just words" and "locker room talk"—and increased diversions to focus on Bill Clinton and Islamic State terrorists.

Clinton mentioned Trump by name 35 times, to Trump's 27 mentions of Clinton. A time-honored tactic in town hall-style debates—name-checking the audience questioners—appeared just once, when Clinton mentioned "Mr. Carter."
There were also substantive sections on foreign policy, taxes, energy, and the Supreme Court. In their first debate, Clinton used policy keywords, ranging from "economics" and "taxes" to "military" and "police," more often than Trump. On Sunday, Trump used these kinds of words 16 percent more often than Clinton—an unusually wide discrepancy for such a broad language category. 
—Bloomberg contributor Adam Tiouririne of Logos Consulting Group advises CEOs and other corporate leaders on high-stakes communication.
Before it's here, it's on the Bloomberg Terminal.
LEARN MORE