business
Goldman Warns China's Outflows May Be Worse Than They Look
Bloomberg News
Yuan cross-border payments surged to $27.7 billion in August

Market factors can't explain such large moves, Goldman says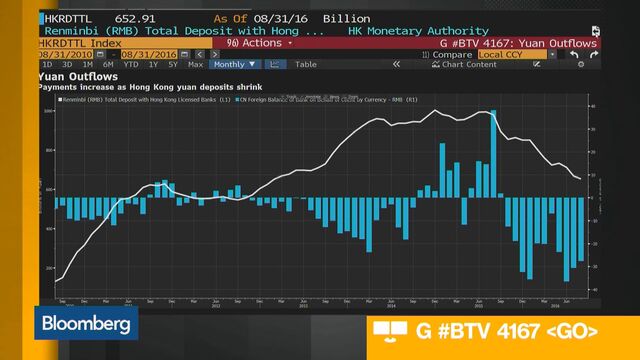 China's currency outflows may be bigger than they look, with Goldman Sachs Group Inc. warning that a rising amount of capital is exiting the country in yuan rather than in dollars.
While the nation's foreign-exchange reserves have stabilized and lenders' net foreign-exchange purchases for clients have fallen close to a one-year low, official data show that $27.7 billion in yuan payments left China in August. That's compared with a monthly average of $4.4 billion in the five years through 2014. Such large cross-border moves can't be explained by market-driven factors and need to be taken into account when measuring currency outflows, according to MK Tang, Hong Kong-based senior China economist at Goldman Sachs.
Any sign of increased capital outflows could disturb a recent calm in China's foreign-exchange market, adding to pressure from a potential Federal Reserve interest-rate increase and denting the yuan's image as the world's newest global reserve currency. The yuan fell to a six-year low on Monday, adding to outflow pressures.
"There is some window guidance from the central bank that limits companies' dollar conversion onshore, so they need to move the money overseas in yuan," said Harrison Hu, chief Greater China economist at Royal Bank of Scotland Plc in Singapore. "But they don't have a strong willingness to hold the yuan due to depreciation expectations, so they sell it to offshore banks. This pressures the offshore yuan's exchange rate."

Figures on the size of Hong Kong's pool of the Chinese currency suggest cross-border transfers aren't staying there for long. Yuan deposits in the city dwindled to a three-year low of 653 billion yuan in August, indicating that some of the inflows are being used to buy foreign currency, said Li Liuyang, a market analyst at Bank of Tokyo-Mitsubishi UFJ in Shanghai.
Goldman Sachs started including yuan funds in its analysis of outflows in July, after noting that cross-border movement of the currency masked actual pressures. The bank estimates that 56 percent and 87 percent of outflows took place through the offshore yuan market in July and August, respectively. A Bloomberg gauge -- which doesn't include direct yuan outflows -- estimates that more than $550 billion left the country this year through August.
"There have been $265 billion in net yuan outflows since last October through August, primarily due to trade settlement in yuan," said Goldman's Tang, citing data from the People's Bank of China and the State Administration of Foreign Exchange. "This flow has helped lessen the overall outflow pressure faced by China because it means that importers did not have to buy as much foreign exchange to pay for imports."
Depreciation Pressure
The yuan has weakened 3.3 percent against the dollar this year, the most in a ranking of Asian currencies, while a Bloomberg survey's median estimate predicts a further decline of 0.5 percent the rest of this year. The currency fell 0.2 percent to 6.7179 against the dollar at 6:15 p.m in Shanghai, the weakest since September 2010.
While necessary to help an economy growing at the slowest pace since the 1990s, the Chinese currency's weakness has exacerbated outflow pressures, which have in turn prompted the authorities to clamp down on channels of taking money out of the country.
Stricter Controls
Curbs were tightened after a yuan devaluation last year spurred an exodus of funds, while the overnight cost to borrow the offshore currency in Hong Kong surged above 20 percent twice this year amid speculation the PBOC mopped up liquidity to boost the exchange rate. The central bank last month denied it intervened.
China's foreign-exchange reserves, the world's largest, have hovered around the $3.2 trillion level since February, after shrinking $323 billion in four months as the PBOC sold dollars to limit declines in the yuan. The hoard declined to $3.17 trillion in September.
"We have seen a structural change in China's capital outflows, with net outbound payments predominantly in yuan this year," said Raymond Yeung, chief economist at Australia & New Zealand Banking Group in Hong Kong. "This relieves the pressure of yuan depreciation in the onshore market. Currency conversion is not taking place onshore. That is why we are not surprised that the foreign reserves have been preserved."
— With assistance by Justina Lee, Tian Chen, Ran Li, Wenwen Zhang, and Helen Sun
(
Updates yuan moves in eighth paragraph.
)
Before it's here, it's on the Bloomberg Terminal.
LEARN MORE