Five Things You Need to Know to Start Your Day
Get caught up on what's moving markets.
By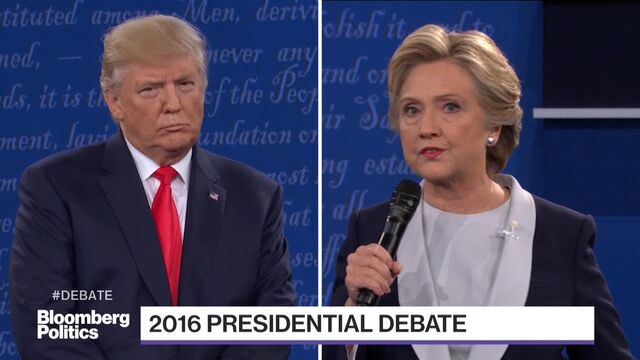 Want to receive this post in your inbox every morning? Sign up here.
There was no love lost at the U.S. Presidential debate, and no love found for the pound. Meanwhile, Kuroda and Draghi need time to reach their inflation targets. Here are some of the things people in markets are talking about today.
Debate
Under pressure following the release of a lewd tape of him bragging about assaulting women 11 years ago, Donald Trump came out swinging in last night's presidential debate. While the majority of viewers polled by CNN showed that Hillary Clinton won, Trump managed to exceed the expectations of pundits. The Mexican peso reflected Trump's bad weekend, with the currency paring gains of as much as 2 percent ahead of the head-to-head to trade 1.3 percent stronger after the contest ended. 
Pound languishes
The British pound showed no sign of staging a recovery this morning, with the currency trading at $1.2415 as of 6:00 a.m. ET. While the debate continues over the cause of last week's flash crash in sterling, retailers in the U.K. are calling on the government to do more to protect consumers from rising prices, saying the falling currency is "compounding economic headwinds."
Inflation goals
In an interview with Bloomberg Television, Bank of Japan Governor Haruhiko Kuroda gave his clearest signal yet that the central bank may postpone the forecast date for reaching its inflation goal to 2018. The governor, whose term ends in April of that year, also said that there's still room to increase monetary stimulus. European Central Bank President Mario Draghi has pointed to early 2019 as the date for the euro area to reach the bank's inflation target, ahead of December's staff economic projections that will be key in deciding whether to extend the current asset purchase program — due to finish in March 2017 at the earliest. Federal Reserve Vice Chairman Stanley Fischer, meanwhile, said that there is little risk that the U.S. central bank would fall behind the curve by waiting too long to hike.
Markets recover
Overnight, the MSCI Asia Pacific Excluding Japan Index added 0.1 percent, with Thai shares suffering the steepest drop in more than a year as concerns over the king's health grew. Japan was closed for a holiday. In Europe, the Stoxx 600 Index was 0.1 percent higher at 6:13 a.m. ET as gains in miners offset losses at banks led by Deutsche Bank, still without a deal with the Department of Justice over the size of the fine over mortgage-backed securities sales. S&P 500 futures were 0.3 percent higher. It's Columnbus Day in the U.S. and bond markets are closed.
China reopens
Chinese markets reopened after a week-long holiday, with the Shanghai Composite Index adding 1.5 percent. The yuan fell as much as 0.46 percent to 6.7051, the weakest since September 2010, and below the 6.7 level that Chinese authorities seem to have been using as a line in the sand. Property developer shares tumbled after authorities imposed restrictions on price increases in more than a dozen cities.
What we've been reading 
This is what's caught our eye over the weekend.
Before it's here, it's on the Bloomberg Terminal.
LEARN MORE