Greece Gets Fresh Loan Payout as Euro Area Looks to Help on Debt
by , , and
Euro area approves 1.1 billion-euro payout at Monday meeting

Dijsselbloem says he wants clarity on IMF's role in bailout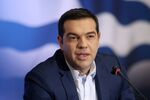 The euro area authorized a 1.1 billion-euro ($1.2 billion) payment to Greece and signaled a further 1.7 billion euros would follow this month, saying the region's most indebted nation has made progress in overhauling its economy.
The green light, given by euro-area finance ministers on Monday in Luxembourg, removes a hurdle on Greece's path to debt relief on which Prime Minister Alexis Tsipras has staked part of his political future. The country had to fulfill 15 conditions on matters such as selling state assets and improving bank governance to get the first payout.
It "was unanimously decided that Greece had completed the 15 milestones, so we can proceed to the 1.1 billion disbursement," Greek Finance Minister Euclid Tsakalotos told reporters after the meeting, saying the talks produced a "very good" outcome for his country. The delay in getting an endorsement for the remaining sum, which is tied to the clearing of arrears, is merely "technical," he said.
Greece, in its third bailout since 2010, is struggling to right an economy that is poised to undergo its eighth annual contraction in the past nine years. A second review of the country's rescue program will pave the way for a possible restructuring of Greece's debt, which the International Monetary Fund says is a necessary condition for its future involvement.
IMF Participation
Question marks still hang over the U.S.-based lender's participation and finance ministers didn't dwell on the issue at Monday's meeting, having discussed it with IMF officials at the fund's annual meetings in Washington last week.
"It's important to have clarity on that as soon as possible," said Dutch Finance Minister Jeroen Dijsselbloem, who chaired Monday's meeting. "The IMF has, on the basis of the agreement in May, said they would go to the board before the end of the year and that has been confirmed in Washington so that is what we should all work for and I have no reason to start talking about a later period."
The IMF said last week it had "significant concerns" about uncompleted reforms in Greece, including pensions and the welfare state. While the IMF is participating in monitoring the current 86 billion-euro bailout, it has not yet agreed to any financial contribution.
Before it's here, it's on the Bloomberg Terminal.
LEARN MORE