Deutsche Bank's Borrowing Premium Doubles From 2015 in Bond Sale
by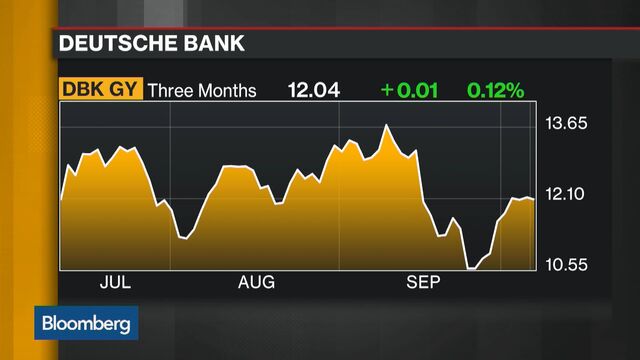 Deutsche Bank AG is paying twice as big a premium to borrow in international debt markets compared with a year ago, as investors demand higher compensation for the risk of future legal costs.
The bank agreed to 300 basis points of extra yield above benchmark rates in a $3 billion private sale of senior unsecured bonds on Friday, according to data compiled by Bloomberg. That compares with 143 basis points in a non-private sale of similar notes in August 2015. 
"They are trying to show they still have sizable access to funding, but they are paying up for it," said Paul Dilworth, a fixed-income analyst at Kames Capital Plc in Edinburgh, which oversees 50 billion pounds ($62 billion) of assets.
The German lender's shares and bonds have tumbled this year as Chief Executive Officer John Cryan struggles to shore up capital and boost profitability. The bank is also seeking to reach a deal with the U.S. Justice Department to end a years-long investigation into its handling of mortgage-backed securities, after rebuffing an initial claim for a $14 billion settlement.

The new notes were priced to yield 4.26 percent, based on Bloomberg calculations. That compares with an average yield of 2.8 percent for U.S. dollar-denominated financial bonds, according to a Bloomberg Barclays index.
A small number of U.S. money managers bought the notes, said two people familiar with the matter who asked not to be identified because the sale was private.
Charlie Oliver, a spokesman for the Frankfurt-based lender, declined to comment on the bond sale.
"It's a large deal and I see it as management attempting to show that it still has market access," said Lloyd Harris, a London-based portfolio manager at Old Mutual Global Investors U.K. Ltd., which oversees 27 billion pounds.
Before it's here, it's on the Bloomberg Terminal.
LEARN MORE