Clinton Allies' Infighting Alleged in New WikiLeaks Release
By , , and
More than 2,000 purported e-mails from Podesta account posted

Bill Clinton's former aide called Chelsea a 'spoiled brat'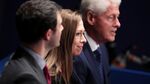 The WikiLeaks website posted more than 2,000 more e-mails it said were hacked from the personal account of Hillary Clinton's campaign chairman purporting to show infighting at the family foundation and internal debate over new banking regulations backed by Senator Elizabeth Warren.
Among the issues included in the latest round of e-mails allegedly purloined from John Podesta's account are messages in which former President Bill Clinton's personal aide, Doug Band, is quoted as disparaging Clinton's daughter Chelsea "as a spoiled brat kid" over disputes at the family's foundation. They also depict internal debate over how to handle Democrat Warren's proposal to reinstate the Glass-Steagall Act barring commercial banks from underwriting corporate securities.
"I am still worried that we will antagonize and activate Elizabeth Warren by opposing a new Glass Steagall,' and about "Elizabeth deciding to endorse Bernie" Sanders, Clinton's opponent in the Democratic primaries, Mandy Grunwald, Clinton communications adviser, allegedly wrote in October 2015. "I worry about defending the banks in the debate."
Grunwald went on to say that Clinton had been "kind of leaning toward endorsing Glass Steagall" but "we face phoniness charges if we 'change' our position now." Clinton hasn't endorsed reinstating the law, which was repealed in 1999 under President Bill Clinton. An aide to Warren declined to comment.
The e-mails were published a day after Clinton clashed with Donald Trump in an insult-strewn 90 minutes in which the Republican presidential nominee accused her of lying. And they emerged as Trump's campaign finds itself reeling from the release of a 2005 tape showing his use of vulgar language in talking about women, a development that prompted a number of prominent Republicans to distance themselves from their party's nominee.
The Clinton campaign has blamed the leaks of Democratic documents on Russia and refused to confirm the authenticity of the e-mails. Podesta last week seemed to suggest that the communications may have been altered.
"It should concern every American that Russia is willing to engage in such hostile acts in order to help Donald Trump become President of the United States," the Clinton campaign said in a statement Monday. Trump, during Sunday's debate, repeated previous statements that Russia may not be responsible for the breaches even though U.S. intelligence agencies have said it was.
'Blame Russia'
"She doesn't know if it's the Russians doing the hacking," Trump said of Clinton. "Maybe there is no hacking. But they always blame Russia."
Last week's e-mail release from WikiLeaks purported to show messages from private paid speeches Clinton delivered in which she voiced support for "open trade and open borders" and discussed being "kind of far removed" from middle-class life.
The latest e-mails appeared to reveal that, in late 2011, Podesta, who served as President Clinton's chief of staff, received complaints from both Chelsea Clinton and Band, who had held a leadership position at the Clinton Foundation but was increasingly shifting his attention to an international consultancy he founded.
MF Global
At a time when she was taking an increased role at the foundation, Chelsea complained about a news story linking her father to collapsed brokerage firm MF Global through Band's firm, Teneo Holdings LLC, and suggested Teneo was blurring the lines between Bill Clinton's work and its own clients without the former president's knowledge.
Two people she said she spoke to in London "voiced serious concerns" she wrote on Dec. 6, 2011, including alleging that a former Bill Clinton staffer had "called Members of the House and Members of Parliament, 'on behalf of President Clinton,"' for Teneo clients.
Band had written a month earlier that his business had "almost nothing to do with the clintons, the foundation or cgi in any way," referring to the Clinton Global Initiative, an affiliate of the Clinton Foundation.
"I don't deserve this from her and deserve a tad more respect or at least a direct dialogue for me to explain these things," Band continued. "She is acting like a spoiled brat kid who has nothing else to do but create issues to justify what she's doing."