China's Dreams of Soccer Power Are Making This Developer Rich
By
Country's biggest builder of soccer complexes is riding high

SoccerWorld plans to double number of centers by end of 2017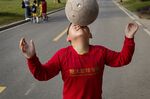 When President Xi Jinping made soccer a national priority two years ago, it was clear that he didn't just want China to become a global powerhouse. He outlined a robust soccer economy, with fields in every county, soccer academies for kids, and fans in every local bar.
Buried in the finer points, Xi called for local governments to "promote the community with the construction of football venues" and for every new residential area to include facilities that can host five-a-side games. Now, says Reeze Fan, who has been building recreational soccer complexes in China since 2008, business is booming.
"Now I can choose my investors," Fan said in an interview during a soccer business conference in Manchester, England. "Quite a lot of the sports-political guys have approached me: 'Come on, come on, I have land -- do football here!'"
With 25 sites in 20 cities, Fan's company, SoccerWorld, is the biggest provider of recreational soccer facilities in China, and it's getting bigger. Sequoia Capital China and state-backed private equity firm China Media Capital invested in the company earlier this year, a connection that led to a partnership with English soccer powerhouse Manchester City, in which CMC bought a 13 percent stake in 2015.
Synthetic Fields
SoccerWorld contracts with local governments and the occasional shopping mall to replace old, poorly maintained municipal fields with the kind of recreational soccer complexes that are ubiquitous in the U.K., with locker rooms, concession stands and synthetic fields big enough for 7-a-side.
Fan says SoccerWorld will double the number of centers it operates to 60 by the end of next year, and spend 500 million yuan ($74.8 million) by 2022 to increase that number to more than 150. Even with Xi's support, he has an uphill climb, says Rowan Simons, the founder of amateur soccer club ChinaFootball FC, which trains 3,000 children.
"Nobody plays at the levels and frequencies required to support dedicated centers," he said. "It will be at least a generation before such services will be required on a mass level."
Fan said the centers have a 75 percent occupancy rate.
Unlike in the U.K., where soccer complexes make money on local leagues and beer sales, SoccerWorld gets about half its revenue from adults reserving fields to play with friends. (Organized rec leagues haven't caught on yet.) Another 20 percent comes from the clinics and training camps which currently serve around 8,000 kids.
Skipping Dinner
Fan brought the model to China after getting a finance degree in Aberdeen, Scotland. While there, he regularly played at a facility run by U.K. operator Goals. Eager to bring something similar back to China, he got a job at the reception desk to learn as much as he could.
Back in Shanghai, Fan found that politicians, whose support was critical, failed to return his invitations to meetings. Cash was so scarce, he skipped dinner some nights. When the local officials did respond, Fan had a new problem: he had to take them out to dinner. "It's very expensive to entertain politicians," he said. "I had to borrow money from friends."
Fan spent 4 million yuan ($596,400) to open his first two centers, in northern Shanghai. He quickly learned that he couldn't strictly replicate the U.K. model. Concessions, primarily beer, account for 15 percent of revenue at a typical U.K. site, but Chinese players don't hang out and drink after games. Kids' clinics are worth about 20 percent of business in China, a figure that Fan thinks will rise to 50 percent thanks to Xi's push and a culture that's rapidly changing.
School Curriculum
"Parents are less conservative about how they raise their kids," said Hanno Leung, a Shanghai-based consultant to the country's nascent soccer industry. "Though they still want them to do well in school academically, they want more recreational options."
Many schools had banned soccer before the president's push. Now it's part of the official curriculum, and particularly skilled or talented kids may have an advantage in high school, all of which is good for SoccerWorld.
So is the tie-up with Manchester City. The Premier League leader will send its coaches to China twice a year to train SoccerWorld's coaches, and the Chinese company will send its most promising youth to the City Football Academy. "We can be a scouting network for them in 25 or 28 cities," Fan said. "These are samples for them."
Fan can't meet Xi's goals by himself, but he is ambitious. He'd like to have 200 fields total, and at least one SoccerWorld facility in all of China's tier one and tier two cities within the next five years. Even sooner, he imagines taking the company public.
"It absolutely makes sense to have a business like this," said Simon Chadwick, a U.K.-based professor of sports business who's advised the Chinese soccer federation. "If you can get the formula right it just leaves you with the issue of where to build these sites."
Before it's here, it's on the Bloomberg Terminal.
LEARN MORE