Brazil to Shun Populists as Economy Recovers, Meirelles Says
By
Brazilian asset rally is reasonable given low starting point

Meirelles says not looking at presidential candidacy in 2018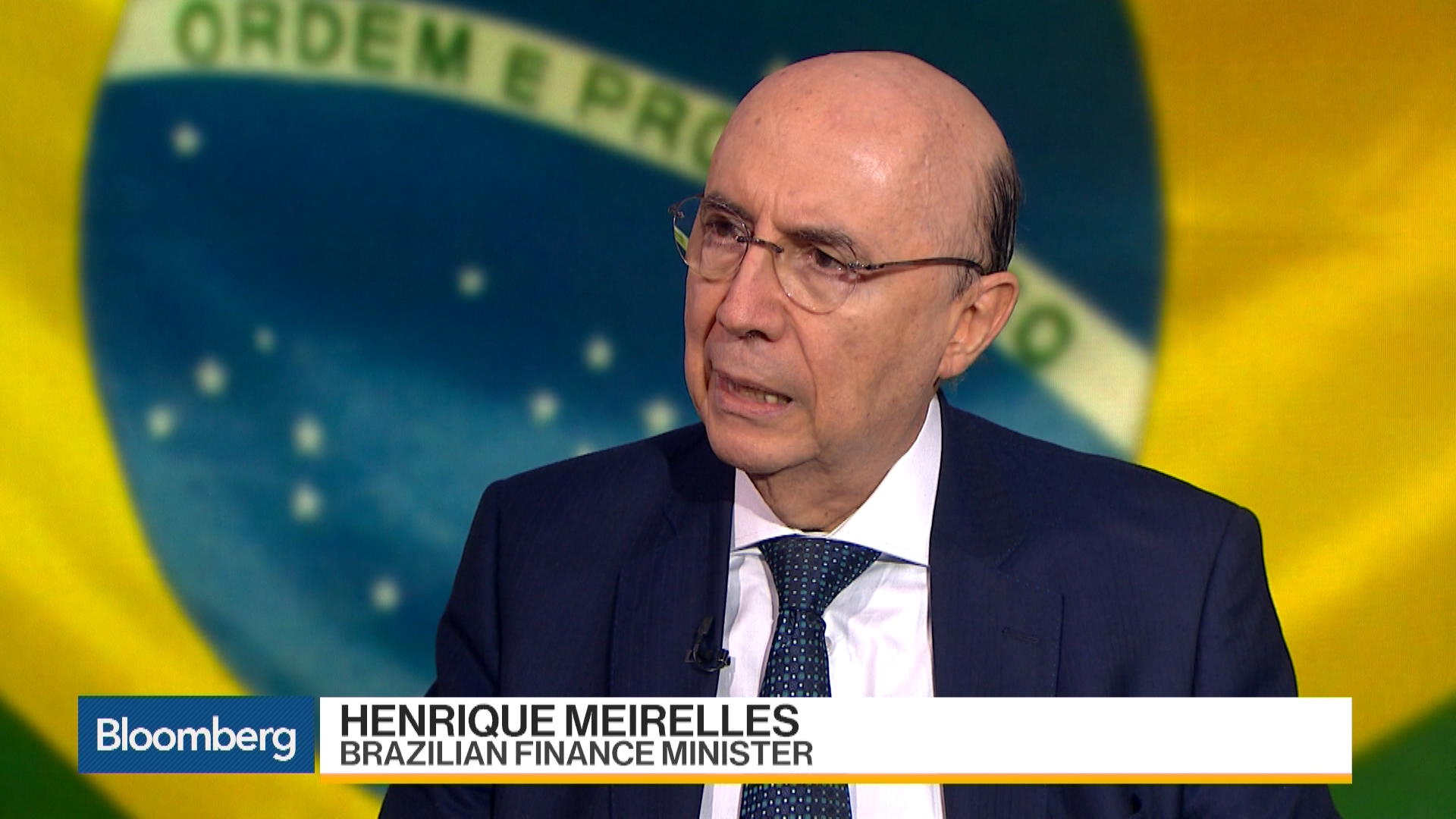 Brazilians will start to see the benefits of an economic recovery in 2017 and there are no signs they are inclined to support populist candidates, Finance Minister Henrique Meirelles said on Monday.
In an interview at Bloomberg headquarters in New York, Meirelles also said that he supports Petrobras's plan to adjust fuel prices in line with international levels, won't use federal funds to bail out companies like telecommunication operator Oi SA and that he is not looking to run for president in 2018.
Amid the deepest economic recession on record, the impeachment of President Dilma Rousseff in August and a two-year corruption scandal, voters have expressed their disillusionment with politicians through high abstention and support for candidates branding themselves as outsiders. President Michel Temer called the Oct. 2 municipal election a warning to the political class. Yet Brazilians are not voting to abandon sound economic policies, Meirelles said.
"The voters looked for responsible and competent managers and mayors, we're not seeing a rise of populism in the country," the former Wall Street executive and ex-central bank chief said. "They can see the recovery ahead."

Slow Recovery
Unemployment soared to a 12-year high as economists estimate that gross domestic product contracted for the seventh consecutive quarter in the three months through September. The economy will recover late this year or early next, and is projected to grow 1.6 percent in 2017 and "maybe" around 2.5 percent in 2018, Meirelles said.
"It's still low growth for Brazil. We're not projecting going back to the 4 percent average that we enjoyed during the last decade," he said.
Temer and Meirelles have personally lobbied legislators on constitutional reforms that would freeze spending growth in real, or inflation-adjusted terms and increase the age of retirement. Despite legal challenges the spending cap should be approved by Congress this year, while the pension proposal may take until the end of 2017, Meirelles said.

Reasonable Rally
Brazil's business and investor confidence have improved since Temer took office on an interim basis in May, driving the Ibovespa stock index to a two-year high and extending the real's world-beating rally this year to 23 percent.
"The recovery from that level, which was so low, is reasonable," Meirelles said.
Over the weekend local media reported that former executives of construction companies involved in the so-called Carwash probe are preparing plea bargains that would implicate 130 legislators, cabinet members and state governors. Meirelles said that this shouldn't upset the government's support in Congress.
"I don't see congressmen voting against the expense cap because they feel threatened by justice," Meirelles said. "It's not like congressmen wanting to protect themselves against justice will vote against the government."
Many in Brasilia see Meirelles, 71, as potential candidate in the presidential race in 2018 if his term as finance minister proves successful. He has had a foot in several political parties and was elected to the lower house of Congress in 2002.
A former president of BankBoston Corp., Meirelles slashed inflation when he was central bank chief for most of the past decade. After leaving the central bank, he became a senior adviser at Kohlberg Kravis Roberts & Co. Ltd and the chairman at J&F Investimentos SA, the holding company that controls the world's largest meat producer, JBS SA. Meirelles stepped down from all positions in the private sector upon being nominated for finance minister.
Before it's here, it's on the Bloomberg Terminal.
LEARN MORE