'Flat and Boring' Prices Will Push Utilities Beyond Power
By
Enel CEO Francesco Starace says industry must change quickly

Technology driving shift in traditional utility business model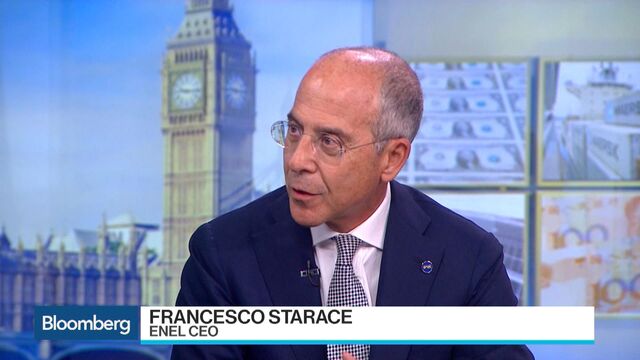 Stagnating power prices in Europe are forcing utilities to embrace new businesses and technologies to maintain earnings, according to the head of Italy's biggest electricity generator.
Francesco Starace is moving Enel SpA into renewable energy, power storage and even fiber-optic broadband services to weather declining demand for electricity in the company's home market. He's pessimistic about the outlook for electricity prices and says even the biggest companies in the industry must prepare to move quickly to embrace change.

"The overcapacity we have in Europe is such that there is no potential away from a very flat and boring price, unexciting for many years to come," the chief executive officer said in an interview ahead of his appearance Monday at a Bloomberg New Energy Finance event in London. "This utility business is no longer a slow moving environment but a vibrant place where things can happen very fast."
Power of Networks
Starace envisions a future when utilities increasingly rely on power-distribution networks for earnings and generate revenue by providing new services to the millions of customers on their books. Enel has already abandoned the industry's traditional model of building large power plants and recouping the costs from customers over decades.
The company, based in Rome, estimates Italy's electricity demand fell 2 percent in the first half of the year and power prices fell 24 percent, according to a presentation issued on June 30. Its net power production fell 8 percent, leading to a 9 percent drop in revenue compared with the first half of 2015. Earnings before interest, taxes, depreciation and amortization and special items rose 3 percent, which reflected an increase in customers and new business in Latin America.
Enel, along with Energias de Portugal SA and Iberdrola SA, is among the European utilities pouring investment into renewable energy as traditional thermal generation withers in their primary markets. Starace said he was among the first to abandon big new power-plant projects and embrace digital technology on the grid, which will enable Enel to build consumer-oriented businesses just now emerging.
Keeping Up
His latest gambit is an offer to install fiber-optic broadband cables in Italy, taking advantage of Enel's existing right-of-way for the power network, at a cost he said may be as much as 50 percent less than what telecommunication companies need. Starace said government officials need to keep up with industry changes, which are moving more quickly than regulations on utilities can be adapted.
"If you stick with the regulatory framework you will be behind, you will always be late," he said. "Regulators need to talk more with other players in the industry about what's going on, what's new, how does it work, rather than waiting for it to appear."
Broadband
In Starace's view, computer technology and consumer demand to connect to things through mobile phones is reshaping all industries, especially the electricity business. Those technologies are helping utilities manage a much bigger inflow of power from renewables, reducing the need for big centralized generation plants fired by fossil fuels.
Enel isn't the only utility seeking growth through broadband. Dublin-based Electricity Supply Board partnered with Vodafone Group Plc to form a new company installing fiber-optic cable to parts of rural Ireland. The government is planning to issue a tender in the next 12 months seeking to install broadband more widely across the country, said Pat O'Doherty, chief executive of ESB.
"I believe there is an opportunity to leverage the investment that's already made in grids," he said at the Bloomberg New Energy Finance Summit in London on Monday.
Electric Cars
Rather than looking to big oil companies to gauge the future of energy, Starace said he pays attention to software developers and General Electric Co., though he underscored that none of them has figured out how exactly digital technologies will reshape the world.
The CEO is also preparing for a time when electric cars absorb more electricity, requiring consumers to pay for charging at different points on the grid. That will require Enel to have payment systems and energy storage to match power demand with supplies. As renewable power's share rises on the grid, so too does increased variability based on the weather at wind and solar farms.
"Utilities are staring to understand that there is much more than just energy for them to play with," Starace said, adding that there's little way to stimulate power demand. "The link between industrial activity and power demand is broken. The focus is on less energy intensive activities. You cannot bet on energy consumption turning up."