U.K. Firms Reluctant to Invest After Brexit Vote, BCC Says
by
Lobby group says government must act to lift confidence

Visa report shows growth in consumer spending in September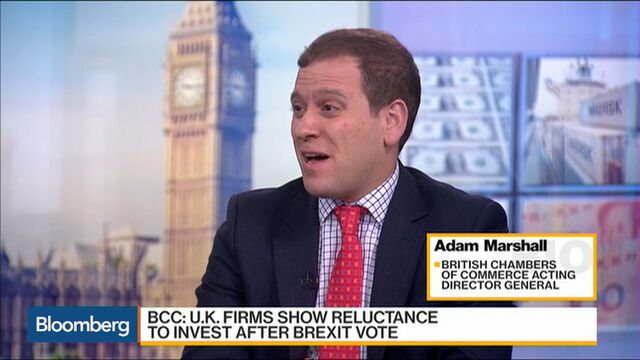 U.K. businesses have become more cautious about the outlook and may be less inclined to invest and hire since the vote to leave the European Union, according to the British Chambers of Commerce.
Citing "muted business investment intentions," the lobby group used its first quarterly survey since the Brexit vote to call on Chancellor of the Exchequer Philip Hammond to take steps to lift confidence, including approving new infrastructure projects.
The BCC said its survey shows that U.K. economic growth has slowed since the referendum. While manufacturers have enjoyed a lift from the weaker pound, the measure of domestic and export sales at services companies is at the lowest since 2012. The National Institute of Economic and Social Research estimated on Friday that GDP rose 0.4 percent in the three months through September, down from 0.7 percent in the period through June.
BCC Acting Director General Adam Marshall said some companies are faring well but others are being "buffeted" by higher energy and import costs caused by the fall in sterling. He added that the hedging contracts businesses had in place before the referendum are coming to an end, which could trigger a "new reality" in terms of their foreign-exchange needs.
Goldilocks Currency
"Business always wants what I call a Goldilocks currency -- not too high and not too low," he said in a Bloomberg Television interview with Manus Cranny and Anna Edwards. "Businesses certainly want a currency that's a bit more stable and I think right now most of them would say it's too low."
Sterling resumed its slide on Monday on concern that Britain is heading for a hard Brexit that would see the country give up barrier-free access to the EU single market to gain greater control of immigration, its budget and law-making. The pound was down 0.2 percent at $1.2406 as of 11:23 a.m. London time, extending its decline since the June 23 referendum to almost 17 percent.
There is speculation that the government will use next month's Autumn Statement to unveil new fiscal measures. Hammond told Bloomberg on Thursday that his plans will include investments in targeted projects to absorb the "shock" of the Brexit vote. He's already rowed back on his predecessor's fiscal squeeze, scrapping a target for a budget surplus by the end of the decade.
'Crucial Opportunity'
It's a "crucial opportunity to incentivise business investment and overseas trade," said Marshall in a statement released on Monday. "Final and irrevocable decisions on infrastructure projects, both big and small, would also boost business confidence."
Separately, Visa said consumer spending picked up in September, led by growth in recreation and culture as well as restaurants and bars. It's index showed spending up an annual 2.4 percent last month, compared with 0.1 percent in August. The report reinforces the picture of consumer resilience after surveys in the past month showed business and household confidence returning to pre-Brexit levels.
Before it's here, it's on the Bloomberg Terminal.
LEARN MORE