Trump Holds Event With Bill Clinton Accusers Before Debate
By and
With release of video, campaign, party confront epic crisis

Second debate with Clinton comes one month before election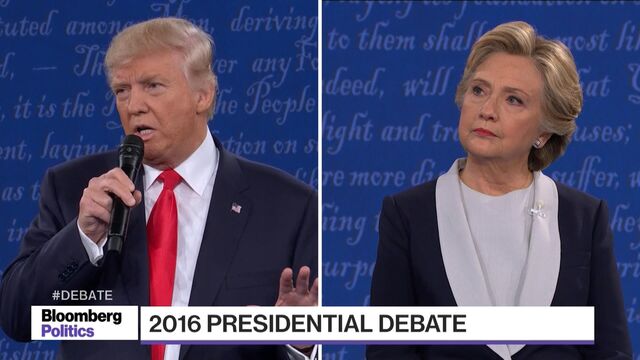 Just 90 minutes before the biggest moment of his political life, Donald Trump showed no sign of contrition for his vulgar statements about women, holding a surprise event with three women who have accused Bill Clinton of sexual misconduct.
Trump brought Juanita Broaddrick, Kathleen Willey and Paula Jones to the Four Seasons Hotel St. Louis, just a short drive from where the second presidential debate with Democratic nominee Hillary Clinton is being held Sunday evening as the Republican's campaign was embroiled in a crisis and his party was in open rebellion against him.
"Bill Clinton raped me," Broaddrick said. 
Clinton has denied the claim through an attorney, and no charges were ever brought. But Broaddrick has emerged as one of the former president's most vocal accusers, and also a strong supporter of Trump in this election.
"Actions are louder than words," Broaddrick said. "Mr. Trump may have said some bad words, but Bill Clinton raped me. And Hillary Clinton threatened me. I don't think there's any comparison."
Trump's official Facebook page showed the gathering live.
Clinton's allies called Trump's event an act of desperation and said the Democratic nominee would be ready for whatever the Republican throws at her at the debate.
"We're not surprised to see Donald Trump continue his destructive race to the bottom," Jennifer Palmieri, Clinton's communications director, said in a statement. "Hillary Clinton understands the opportunity in this town hall is to talk to voters on stage and in the audience about the issues that matter to them, and this stunt doesn't change that."
Donna Brazile, the interim chair of the Democratic National Committee, called Trump's last-minute pre-debate appearance "an act of desperation" as she walked through the debate site. Told that the women planned be in the debate hall, Brazile responded: "I'm gonna be in the hall too."
The stakes couldn't be higher for Trump or the party after the release of a video in which he talks about women in degrading terms. That triggered a rush of Republican officeholders to distance themselves from him or call for his exit from the race for the White House. 
The debate at Washington University, which starts at 9 p.m. Eastern time, has some party leaders worried Trump will make matters worse by Clinton through the infidelities of her husband. Even if Trump offers contrition, many political strategists have concluded he is too damaged to rebound.
"It's over," said Steve Schmidt, a Republican strategist and senior adviser to the party's 2008 nominee, Senator John McCain. "This is not recoverable. This debate has every likelihood of being a fiasco."
Attack Line
Trump has long threatened to attack Hillary Clinton over her husband's past infidelities despite warnings from Republican allies that re-litigating the issue will backfire with voters he needs to win the White House. Trump, after his first debate with Hillary Clinton, congratulated himself for not bringing up Bill Clinton's past during the encounter and his son Eric Trump lauded his father for showing "courage" by not making it an issue.
In an early Saturday morning video apology for his 2005 remarks, Trump previewed his new strategy by saying she took part in discrediting the accusers and burying the charges. 
On Sunday, each of the women expressed support for Trump and excoriated his Democratic rival.
Click here to watch the debate on LIVE <GO>
"These four very courageous women have asked to be here and it was our honor to help them," Trump said before each of the women took turns giving brief statements.
Jones, an Arkansas state employee, accused Clinton in 1991 of making an unwanted sexual advance. It was in a deposition for a lawsuit brought by Jones that the president lied about an affair he had with Monica Lewinsky, a White House intern. Congressional Republicans launched impeachment proceedings over the incident. Clinton was acquitted.
"I'm here to support Mr. Trump," Jones said, defending him as "a good person" who is "not what other people have been saying."
Willey was a former White House aide who said Bill Clinton groped her in his office in 1993 on the same day her husband died of an apparent suicide. Clinton denied he'd assaulted her and an independent prosecutor determined there was insufficient evidence to prove that the president had lied.
On "the first day that he announced for president he said I love this country and I want America to be great again. And I cried when he said that," Willey told reporters.
The fourth woman present with Trump on Sunday evening, Kathy Shelton, was the victim of rape at the age of 12 and Hillary Clinton was the court appointed lawyer of the man accused of the crime in Arkansas in the mid-1970s. The case ended with a plea bargain and Clinton's critics have used the case through the years.
"At 12-years old, Hillary put me through something that you would never put a 12 year old through," Shelton said.
Broaddrick was a nursing home administrator and volunteer on Clinton's campaign for Arkansas governor who alleged during a national television broadcast in 1999 that he raped her in 1978.
But Trump's gambit is far from a sure way to gain ground in a race he trails. Gallup tracking polls find that Hillary Clinton's favorable rating surged to an all-time high in the midst of the Monica Lewinsky scandal in the late 1990s, before dropping again.
"It's bad for him. It's a wrong tactical move for him to try to do that," Joe Watkins, a former aide to George W. Bush, said in a recent interview.
"I don't think this is a way to get the college-educated white women," Republican strategist John Feehery said before Trump's Saturday appearance with the four women. "Trump is best when he's talking about the concern of the American people, like disappearing manufacturing jobs. All this other stuff is nonsense."
Despite a flood of defections over the weekend, Trump still has his Republican defenders, and on the Sunday morning round of political talk shows they were represented by Rudy Giuliani. The former New York mayor told ABC's "This Week With George Stephanopoulos" that Trump's comments were "reprehensible." But he invoked the Catholic concept of absolution from sin, and sought to draw a line under the controversy: "That was then, and this is now."
'Up to It'
Giuliani raised the issue of the Clinton marriage . "I think Donald Trump understands that tonight's debate was always going to be very important, and the stakes have gotten a lot higher," Giuliani said. "I think he'll be up to it."
The Trump campaign flagged another line of attack on Sunday, e-mailing a CNN report about Clinton's alleged support for "open borders" in the Western hemisphere. Her comment was taken from a publication by the website Wikileaks of hacked e-mails purporting to show excerpts of Clinton's paid Wall Street speeches. Trump has campaigned hard against trade agreements, accusing Clinton and other Democrats of backing arrangements that cost American jobs.
Also coming out for Trump on Sunday were two key GOP moneymen. Steven Mnuchin, Trump's campaign finance chair, and Lew Eisenberg, who holds the equivalent post for the Republican National Committee, wrote in an e-mail that they're still "committed to have Donald Trump in the White House," according to Politico. The two men plan to host a conference call in the coming week that will provide an "update" on the situation, Politico reported.
First Questions
A survey conducted Saturday by Politico and Morning Consult found that 74 percent of Republican voters thought the party should continue to back Trump, even after the tape's release. But pollsters for CBS News, who had been surveying the battleground states of Ohio and Pennsylvania just prior to the scandal, called some of those voters back on Friday night and Saturday and found that eight in 10 had seen or heard of the video. Almost half said it made them think worse of Trump, although those responders mostly weren't backing the Republican anyway.
President Barack Obama weighed in on Trump's remarks in an appearance on Sunday afternoon while pointedly avoiding the most offensive words. "I don't need to repeat it; there are children in the room," Obama said, speaking in Chicago at a fundraiser for Representative Tammy Duckworth's Senate bid.  He said the comments fitted a pattern in which Trump has also demeaned minorities, immigrants, people of different religions and the disabled during the campaign.
With less than a month before the election, the timing of the video's release could hardly be worse for Trump and the Republican Party. Ballots are already being cast via early and absentee voting in some states. The impact threatens the party's hold on the Senate and potentially the House.
Even before the latest Trump controversy, recent polls showed Clinton widening her lead nationally, and in key states such as Ohio that Trump probably needs to win.