Pound's Precipitous Drop Risks More Harm Than Good for U.K.
By
Sterling tumble has helped cushion economy from Brexit fallout

Accelerated decline, flash crash may undermine that role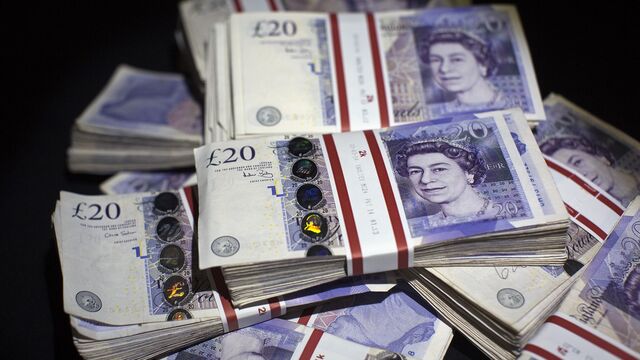 The pound risks turning from prop to pain for the U.K. economy as Brexit negotiations near. 
Sterling fell for a third day on Monday, extending last week's biggest tumble since the vote to leave the European Union in June. The currency's slide is mounting amid a growing realization that the U.K. government's approach to Brexit may mean forgoing membership of the single market. While the pound's weakness has helped cushion the economy in the immediate aftermath of the referendum, the latest drop may carry more costs than advantages.

The decline has caused companies to downgrade profit forecasts, threatened to fan inflation, and also hinted at a further fall from grace for what was once the global reserve currency. The flash crash last week was more redolent of a frontier currency than the world's fourth-most traded, and only Sierra Leone's leone and the Mozambique metical have dropped more than the pound since the June 23 referendum.
While some U.K. lawmakers have touted the boost a weaker currency can give exporters, those advantages can disappear when the slide is as fast and disorderly as sterling suffered last week, according to Nomura Holdings Inc.
Economic Impact
"Business always wants what I call a Goldilocks currency -- not too high and not too low," Adam Marshall, acting director general of the British Chambers of Commerce, said in a Bloomberg Television interview with Manus Cranny and Anna Edwards. "Businesses certainly want a currency that's a bit more stable and I think right now most of them would say it's too low."
The pound's 17 percent tumble against the dollar since Brexit may be part of a fundamental shift in the state of the U.K. economy that monetary policy alone can't tackle, former Bank of England policy maker Adam Posen said on Friday. The decline is "compounding economic headwinds," the British Retail Consortium said in an open letter to Trade Secretary Liam Fox Monday.
The impact of the declining pound has been filtering through since the vote. Manufacturing has been supported by a weaker sterling, the exporter-heavy FTSE 100 index approached a record high, while import prices have jumped. As the plunge accelerated during the ruling Conservative Party's conference last week, the wider fallout became apparent. Sports Direct International Plc announced losses on its currency hedge were forcing it to scrap the profit forecast issued just a month ago. Bond-market expectations for faster inflation soared.
For a Q&A on the flash crash, click here
The disruptive effect from a sudden currency depreciation may be so large that it exceeds the economic benefits that accrue from higher exports, according to Commerzbank. For consumers already noticing the higher cost of foreign travel, the risk is that a weaker currency results in price increases at home, while faster inflation may make it less likely that the Bank of England will be able to support a slowing economy via lower interest rates or more asset purchases -- increasing the risk of stagflation.
"It's really a question of pace as much as a level," said Bilal Hafeez, global head of foreign-exchange research at Nomura in London. "The key thing is the need for more stabilization, or less sharp moves. But if it continues at this pace it could have a negative feedback loop."
World's Worst
Sterling, 2016's worst performer among 32 major currencies tracked by Bloomberg, has plunged as the potential has become more real that the U.K. would settle for restricted access to the EU's single market -- the largest in the world -- in return for the government retaking control of immigration.
With the exact meaning of Brexit still unclear, traders are expecting more volatility. Prime Minister Theresa May has pledged to trigger Article 50 of the Lisbon Treaty, the formal step needed to leave the bloc, by the end of March. That would start two years of formal discussions on an exit.
The pound fell 0.3 percent to $1.2394 as of 12:50 p.m. in London on Monday. It touched a 31-year low of $1.1841 on Friday, according to composite prices compiled by Bloomberg of contributions from dealers, and fell 4.2 percent last week -- the most since that ending June 24, when the Brexit vote results were published.
Investors alarmed by the possibility of tougher immigration curbs that could make it costlier to produce goods and secure talent are also fretting about the country's record current-account deficit, which needs to be funded by a constant flow of foreign cash.
Wealth Effect
While a weaker currency may boost exports in the short term, "on the other side you have a negative wealth effect because you are giving away your exports for much less and you have to pay more for your imports," said Ulrich Leuchtmann, head of currency strategy at Commerzbank in Frankfurt. "At some point this wealth effect is dominating and the net effect on the real economy is a negative one."
With a friendly divorce between the U.K. and its EU partners looking more remote, HSBC Holdings Plc, Europe's largest bank, said the pound's slide is far from finished and predicts a decline to $1.10 by the end of 2017.
Sterling "has gone from a cyclical to a political and structural currency," David Bloom, global head of currency strategy at HSBC in London, said in a report to clients. "The structure and politics are conducive to a currency that needs to fall to a level that causes balance" and that is "still a lot lower than where it is today," he wrote.
— With assistance by Anna Edwards, Scott Hamilton, and Manus Cranny
Before it's here, it's on the Bloomberg Terminal.
LEARN MORE