Stocks Rise With Oil on OPEC Deal Outlook; Mexico's Peso Climbs
by and
Putin says Russia is ready to freeze or cut crude production

Crude oil advances to highest level in more than year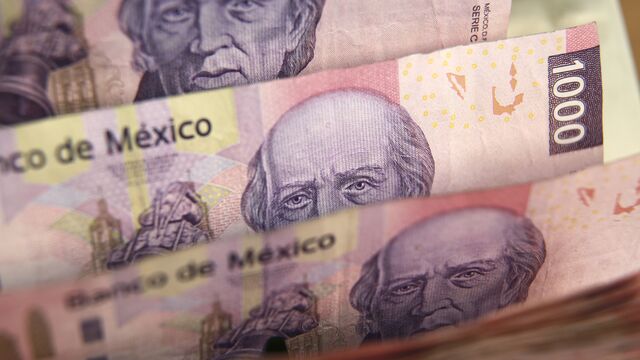 Stocks rose with oil amid optimism that major crude producers will work with OPEC to cut output. Mexico's peso climbed on speculation Republican candidate Donald Trump's performance in a second presidential debate wasn't strong enough to boost his chances of winning the race.
Energy shares led gains in equities as crude jumped to a one-year high after Saudi Arabia said other exporters have expressed their readiness to cooperate and President Vladimir Putin affirmed that Russia would back an accord. Currencies of oil producers rallied, while Mexico's peso posted the biggest advance among its major peers. U.K. 10-year gilt yields advanced on concern the plunging pound will fuel inflation.

Markets face risks from the U.S. elections to higher borrowing costs and corporate earnings in the final quarter of the year. A poll by CNN indicated a win for Democratic nominee Hillary Clinton in Sunday's debate, after Trump's campaign was hit by a 2005 video in which he made vulgar comments about women. Traders are also keeping an eye on crude as ministers from some of the largest producers gather in Turkey to discuss ways to end a supply glut.
"The gains today could be because Putin has said that he's willing to reduce output and freeze production," said John Conlon, the chief equity strategist at People's United Wealth Management, which oversees $5.5 billion. "The earnings season is now going to be grabbing attention for the next three weeks. Earnings are going to push the interest rate and oil discussion aside."
Global trading has gotten off to a rocky start in October amid speculation that the European Central Bank would start tapering stimulus and as hawkish comments by Federal Reserve officials boosted speculation of a rate increase. Minutes from the U.S. central bank's September meeting will be released on Wednesday, while data on retail sales, producer prices and consumer sentiment are due Friday. Investors are also seeking clues on the health of corporate America, as Alcoa Inc. kicks off the next earnings season tomorrow.
Stocks
MSCI's gauges of global and emerging-market equities climbed with oil. The S&P 500 Index rose 0.6 percent to 2,166.99 at 3:30 p.m. in New York. Exxon Mobil Corp. advanced to a one-month high. Mylan NV surged after agreeing to pay $465 million to settle a probe over how the drugmaker charged Medicaid for its allergy shot EpiPen. Twitter Inc. tumbled after potential bidders were said to have lost interest in making offers to buy the company.
Amid a spate of strong economic reports, traders have boosted odds for a December Fed hike to almost 68 percent, from 51 percent two weeks ago. While analysts are forecasting a 1.6 percent contraction in third-quarter profits for S&P 500 companies, U.S. firms on average have exceeded projections by an average margin of 3.6 percentage points in the past five years. If the trend continues, it will likely result in earnings growth for the period.
Still, Goldman Sachs Group Inc. says both U.S. and European equities are in for a bumpy ride into the end of the year. The firm projects that the S&P 500 and the Stoxx Europe 600 Index will each drop by about 2 percent by December. 
"We have more potential for shocks right now," Christian Mueller-Glissmann, Goldman Sachs's managing director of portfolio strategy and asset allocation, said by phone from London on Oct. 6. "We have a slight tilt to be a bit more defensive, and tilt towards Asia and emerging markets relative to more developed markets. We are a bit more bearish on Europe and the U.S into year-end."
European stocks halted a three-day slide as a surge in crude propelled energy companies higher. Deutsche Bank AG rallied as Austria's Finance Minister said the German lender should be able to "solve the problems with the United States" and that a punishment of $10 billion would be too much. Vivendi SA climbed as Vincent Bollore's investment company raised its stake in the French media conglomerate to more than 20 percent
Commodities
Oil climbed 3.1 percent in New York. Many other producers have expressed their readiness to work with the Organization of Petroleum Exporting Countries, Saudi Minister of Energy and Industry Khalid Al-Falih said in Istanbul, where he's attending the World Energy Congress. He will meet in the next couple of days with his Russian counterpart, who said on Monday his country is ready for an accord with OPEC.
"This is a headline-driven situation, and will remain so as long as everyone is in Istanbul," said Bob Yawger, director of the futures division at Mizuho Securities USA Inc. in New York. "It was the Saudi statement that got us in positive territory and the Russian comments have added to the market's strength."
West Texas Intermediate oil for November delivery rose to $51.35 a barrel on the New York Mercantile Exchange. It was the highest close since July 15, 2015. Brent for December settlement increased 2.3 percent to $53.14 a barrel on the London-based ICE Futures Europe exchange.
Gold futures rebounded from the biggest weekly drop in more than three years as data showed investors jumped into exchange-traded funds backed by the metal, lifting global holdings to the highest since 2013. Silver and copper also rallied.
Currencies
Mexico's peso jumped to a one-month high as Trump dismissed his comments as "locker room talk" and attacked Clinton over her e-mail use and tax plan, while the Democrat highlighted her career and said her opponent was unfit to be president.
"The market reaction has this takeaway that Trump's campaign is struggling," John Hardy, Saxo Bank's head of foreign-exchange strategy, said in a Bloomberg Television interview from Hellerup, Denmark. "The market has seized upon this as trading the Mexican peso as some kind of financial market proxy for the political outcome of the election."
The peso has been a barometer of investor anxiety about the U.S. election, falling when Trump advances in polls and gaining when he slumps. The currency tumbled in September as polls showed the Republican gaining on Clinton, sparking investor concern that Mexico's economy could be upended if he followed through on campaign pledges to renegotiate the North American Free Trade Agreement and deport millions of undocumented immigrants.
Elsewhere in the world, Canada's dollar climbed the most since July while Russia's ruble erased an earlier slide as crude rallied. The yuan tumbled the most in four months as China's markets reopened after a week-long break. The pound slumped as investors awaited clues about the cause of last week's flash crash and on whether Britain is truly headed for a hard Brexit. A gauge of the greenback was little changed.
Bonds
Trading with Treasuries was halted on Monday for Columbus Day.
The yield on U.K. 10-year gilts extended its increase above 1 percent after last week rising above that level for the first time since late June. Gilts have slid as the pound's plunge prompted investors to boost wagers that inflation will accelerate.
Portugal's bonds rose the most in almost six months after the country's finance chief said that rating company DBRS Ltd. has a positive assessment of the nation's fiscal efforts, strengthening the government's conviction that it will keep its investment-grade rating.
Saudi Arabia, undergoing its biggest economic overhaul in recent history, will start meeting investors this week with a view to selling its first international bond, according to people familiar with the matter.
Before it's here, it's on the Bloomberg Terminal.
LEARN MORE