Germany Escapes Bomb Attack as Syrian Suspect Still at Large
By
Police in Chemnitz raided apartment and found explosives

22-year-old suspect remains at large while manhunt continues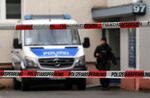 Police are hunting a terror suspect and may have foiled an attack in Germany by raiding an apartment in Chemnitz and seizing explosives.
A manhunt is under way for 22-year-old Syrian national Jaber Albakr on suspicion that he may have planned a bomb attack, police in Saxony said. Several hundred grams of highly dangerous explosives were found during a search of his home Saturday that followed a tip-off by German secret services, and a person who may have been an accomplice has been detained. A second apartment was raided on Sunday, and special forces captured another male who is believed to have been in contact with the main suspect, police said.

Germany had been spared from the large-scale terror attacks that hit cities including Brussels, Paris and Istanbul until July, when a spate of incidents occurred, including a shooting spree in Munich that killed 10 and a bombing at a music festival. The Munich act was later found to have had no political motives.
The strikes have hurt the popularity of Chancellor Angela Merkel, who is insisting on Germany's moral and legal obligations to take in asylum seekers. Still, quarrels within her government coalition over last year's record influx of refugees are waning. 
Merkel's approval rating rebounded to 54 percent in October after dropping 14 points to 45 percent last month, according to a poll published late Thursday by broadcaster ARD.
Albakr came to Germany as an asylum seeker and was accepted, police said, adding he may be armed and could be dangerous.
Before it's here, it's on the Bloomberg Terminal.
LEARN MORE