Commodities Currencies, Mexican Peso Pare Gain After U.S. Debate
by and
'The second debate wasn't a game changer,': Bank of Singapore

Goldman Sachs Asset has increased exposure to Mexican currency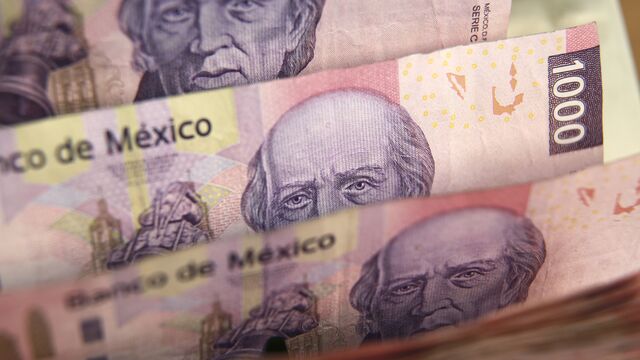 Currencies of natural-resource-exporting nations and the Mexican peso pared gains after Donald Trump and Hillary Clinton sparred in the second presidential debate.
The peso, considered as a barometer for currency-market views on Trump's chances, trimmed its advance after rising as much as 2 percent as the Republican candidate was questioned over a video in which he can be heard talking crudely about women. Currencies such as the Australian, Canadian and New Zealand dollars also pared increases. The won and ringgit advanced.
"This second debate wasn't a game changer," said Sim Moh Siong, a currency strategist at Bank of Singapore Ltd. "Clinton should still maintain her lead. For risky assets, it's still a bumpy period heading into Nov. 8. There's still a third debate coming up."

The Mexican currency climbed 1.6 percent to 18.9997 per dollar as of 6:47 a.m. in London, after touching 18.9106, its strongest level since Sept. 13. It has depreciated more than 9 percent this year as Trump's popularity gathered pace amid his calls to renegotiate or end trade deals with Mexico and force the country to pay for a wall along the U.S. border.
'Locker Room Talk'
The peso slid to a record low hours before the first debate on Sept. 26, then rebounded as the discussion got under way amid perceptions Clinton won the day. This time around, the currency surged to the day's high as Trump sought to dismiss the video comments as "locker room talk." It pared gains as the Republican attacked Clinton for her use of a private e-mail server while secretary of state.
"We have increased exposure to the Mexican peso," Goldman Sachs Asset Management said in a note to clients dated Oct. 7. At current levels, the currency "offers value that compensates for potential risk ahead of the U.S. elections," the fund manager said.
During the debate, Trump repeatedly accused Clinton of failing to make any difference in her three decades in public service, while Clinton shot back that his words and actions disqualified him for the presidency. Trump's comments in the video, made a decade ago, have spurred some top Republicans to withdraw their support for him. The third and final presidential debate is scheduled for Oct. 19.
Jobs Report
A gauge of the dollar weakened for a second day as the debate followed lower-than-expected payrolls figures, which did little to alter perceptions that the Federal Reserve will tighten policy in December.
Odds for the Fed raising rates by the end of the year have inched up to 64 percent from 61 percent on Friday, when the Labor Department data showed 156,000 workers were added to non-farm payrolls in September, compared with an increase in August that was revised up to 167,000. Economists had projected a gain of 172,000. While payrolls came in below expectations, the share of working-age people in the labor force climbed to a six-month high in September and wage growth picked up, the report showed.
Kuroda Comments
The yen was little changed at 102.96 after a 0.9 percent rally on Friday, which was helped by September jobs data in the U.S. Bank of Japan chief Haruhiko Kuroda, in an interview with Bloomberg Television, gave the clearest signal yet that the central bank may postpone the forecast date for achieving its 2 percent inflation target to 2018. He left no doubt about his view that the BOJ is in the stimulus business for the long haul. The Bloomberg Dollar Spot Index, a gauge of the greenback against 10 major peers, slipped 0.1 percent.
The British pound fell 0.3 percent, trading at $1.2400. That extended its 1.4 percent loss in the previous session, during which the sterling slumped as much as 6 percent in what was described as a flash crash. The currency is under pressure amid concern Britain will face a so-called hard Brexit.
The Australian dollar added 0.2 percent, paring an earlier gain of as much as 0.4 percent. The Canadian loonie was 0.3 percent higher, while New Zealand's kiwi was little changed.
Before it's here, it's on the Bloomberg Terminal.
LEARN MORE