Samsung Gets Hit Again as AT&T, T-Mobile Halt Note 7 Sales
by and
Samsung Note 7s have been recalled after phones caught fire

U.S. carriers offer other devices as Note 7 replacements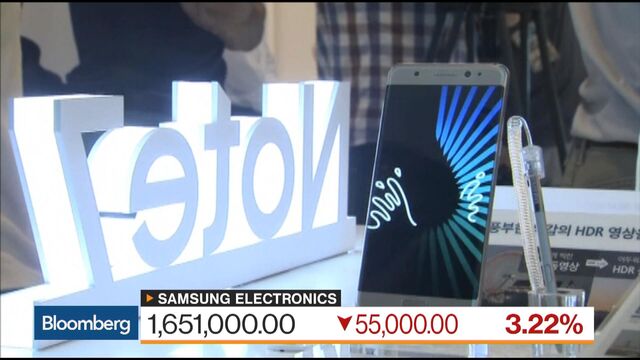 Samsung Electronics Co. has been dealt another blow stemming from problems with its flagship Galaxy Note 7 as two of the three biggest U.S. carriers stopped all sales of the smartphone over safety concerns. Shares slumped.
In the past week, reports have emerged that replacement phones given to customers affected by a global recall were also catching fire. Samsung fell as much as 4.6 percent in Seoul Monday.
"Based on recent reports, we're no longer exchanging new Note 7s at this time, pending further investigation of these reported incidents," AT&T Inc. spokesman Fletcher Cook said in an e-mailed statement on Sunday. T-Mobile US Inc. said it halted sales and exchanges while Samsung investigates.
Samsung started replacing the Note 7 last month because of a flaw in its lithium battery that can lead to overheating and pose a burn hazard to customers. Airlines have banned customers from using the smartphones on flights, and the evacuation of a Southwest Airlines Co. plane last week was blamed on smoke caused by a replacement device.
AT&T's move is a further slam to Samsung. The wireless carrier is the third-biggest customer of the South Korean company while T-Mobile's parent is No. 4, according to estimates compiled by Bloomberg. Samsung is already facing a bill that analysts estimate could stretch into billions of dollars for the recall of 2.5 million Note 7 phones.
Samsung said it respects AT&T's decision and is working with authorities to investigate the issues. The Suwon-based company will take immediate steps approved by the Consumer Product Safety Commission if it finds a safety issue exists, it said in a response to queries from Bloomberg News.
Alternative Devices
Like many competitors, AT&T had been already offering alternative smartphones to people who return Note 7 devices. On Friday, Bloomberg News reported that AT&T, the Mo. 2 U.S. carrier, was considering halting sales of the Note 7. Sprint Corp., the fourth-largest wireless operator, hasn't changed its policy of selling and replacing Note 7s, spokesman Dave Tovar said.

Samsung was able to rely on sales to other phone makers and computer manufacturers to offset the fallout from the Note 7 crisis in the three months through September, when operating profit exceeded analyst estimates. The stock had recovered since losing $22 billion of market value after the recall was announced at the start of last month and hasn't significantly underperformed its Nasdaq technology peers in that period.
The imbroglio coincides with mounting pressure from investor Paul Elliott Singer, who this month advocated a break up of the complex Samsung empire. Singer's Elliott Management Corp. -- through affiliates Blake Capital LLC and Potter Capital LLC -- proposed that Samsung separate into an operating company and a holding company, dual-list the former on a U.S. exchange, pay shareholders a special dividend of 30 trillion Korean won ($27 billion) and improve governance by adding three independent board members.
Before it's here, it's on the Bloomberg Terminal.
LEARN MORE