Trump Video Demolishes GOP Unity as Party Fears Easy Clinton Win
The cascading events broaden what many analysts see as Clinton's already-clear path to winning the election in 30 days.
By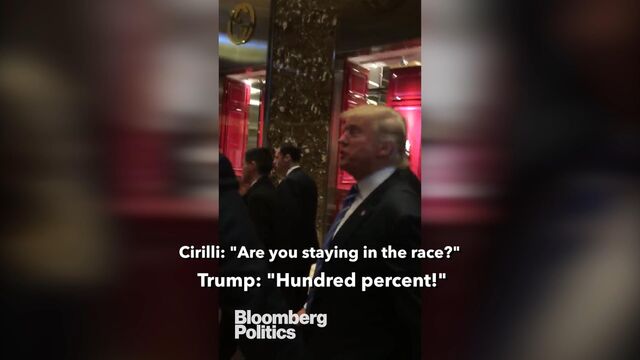 Donald Trump's decade-old boasting of groping women in vulgar terms finally severed his last tenuous support from many top Republicans, by tearing away the one thing they were clinging onto as they backed him through gritted teeth.
They no longer think he can beat Hillary Clinton.
The 2005 video was the breaking point for many Republican officeholders who stood by their nominee after he derided Mexican migrants as "rapists" in his 2015 launch speech, attacked Arizona Senator John McCain's war record, made crass comments about Fox News anchor Megyn Kelly, smeared the Muslim parents of a slain U.S. soldier, bashed a federal judge over his Mexican ancestry, and feuded with a Latina Miss Universe.
The fracturing of the party's fragile support for Trump comes on the eve of the second presidential debate Sunday in St. Louis and after a brutal stretch that damaged his already shaky standing in the polls. The cascading events broaden what many analysts see as Clinton's already-clear path to winning the election in 30 days, and elevated Republican fears of their candidates losing Senate and House races.
"The presidential election is over," said Doug Heye, a former spokesman for the Republican National Committee and longtime critic of Trump. He said it's time for Republicans to "confront our demons" and reflect on how they allowed Trump to become the party's standard-bearer. "Donald Trump represents an indelible stain on the GOP's soul."
By day's end, Trump was reduced to insisting repeatedly he wasn't going to quit the race, and the fate of Indiana Governor Mike Pence as his running mate did not seem fully assured, as some Republicans were seeking a way to make Pence the presidential contender, not Trump.
For her part, Clinton made clear through her campaign officials that she would abide by the oldest rule in politics: when your opponent is self-destructing, stay out of the way. Campaign officials said she would not speak of the videotape until the debate Sunday -- all the better to marshal its political and emotional punch in prime time.
A rare apology in a videotaped message from Trump hours after the video surfaced Friday failed to stem the flood of defections. Republicans' No. 3 senator, John Thune of South Dakota, who is up for re-election, said in an extraordinary statement that "Donald Trump should withdraw and Mike Pence should be our nominee effective immediately." McCain, also up for re-election, said there were "no excuses for Donald Trump's offensive and demeaning comments," and concluded that they "make it impossible to continue to offer even conditional support for his candidacy."
The list of Republicans who jumped ship by Saturday night included Senator Kelly Ayotte of New Hampshire, Senator Mike Crapo of Idaho, Senators Lisa Murkowski and Dan Sullivan of Alaska, Senator Cory Gardner of Colorado, Senator Rob Portman of Ohio, House Oversight Committee Chairman Jason Chaffetz, and several other House members.
"Somehow I don't think it will exactly expand his support among women," said Whit Ayres, a leading Republican pollster. Trump is under-performing with Republican-friendly constituencies including suburban women and college-educated white women, and Ayres said the comments are likely to exacerbate his woes.
Democratic pollster Peter Hart was more blunt when asked for his reaction to the leaked Trump tape: "He takes arsenic a drop at a time. At some stage he will keel over politically."
Why Now?
In many ways, the weekend's events played out as Republican elders had long feared with a bombastic reality-show host and billionaire political neophyte at the top of their ticket.
Few Republican leaders wanted Trump to be their nominee in the first place, or have any affection for him or his policies. But Republican voters stunned them by rallying around him in the primary as a protest of the party's leadership.
Trump's impressive showing among Republicans prompted many GOP officials to back him for fear of losing their base, and in pursuit of channeling the anti-establishment energy he had captured.
Nationally, GOP voters support him by levels as high as 90 percent, polls say, and the leaked video first reported by the Washington Post didn't damage him with some of his backers. A clip package Saturday on MSNBC featured Trump supporters angry at GOP officials for abandoning him. Trump's son posted a video of his father exiting Trump Tower in the afternoon to a raucous crowd of fans.
To Republicans who watched his ascent, even those who reviled Trump, there was a feeling that they had to play along, to support him for fear of alienating their base.
Now, Republican officials "have to distance themselves from him in order to remain credible" with a larger universe of voters, said Joe Watkins, a former aide to President George W. Bush.
"This latest Trump revelation is a Category 5 level political catastrophe," he said. "GOP elected officials who endorsed or supported him in recent months have to consider their own political survival -- especially if they are in a competitive race themselves this election cycle. No male or female GOP elected officials can offer any kind of justification for what Donald Trump said."
The 2005 audio featured Trump speaking to Billy Bush of "Access Hollywood" ahead of a taping, recounting how he made sexual advances toward a married woman. "When you're a star they let you do it. You can do anything," he said. "Grab them by the p---y."
The reaction from anti-Trump Republicans was: We told you so.
"Not seeing the signs of Trump's degeneracy up until this point is like walking down the Vegas strip, and asking: 'Where is the casino?' Everyone knew what we did here, but many were afraid to stand up to it until a groundswell like this gave them the cover," said Rory Cooper, a one-time spokesman for former House Majority Leader Eric Cantor.
"The party's soul has needed examination for some time," Cooper said, calling for new party leaders and rules, and confessing that he's "very worried about down-ballot races at this point."
The long-simmering divide between Republican leaders and their voters foreshadows a harrowing civil war to come.
"Trump's base isn't walking away, but his comments are likely going to alienate independents, moderates and women in battleground states he needs to win," said Ron Bonjean, a Republican strategist and former congressional leadership aide. "After the election, the Republican Party will likely descend into a civil war that has been simmering among the two warring factions of the angry Trump voting bloc and the establishment-business community."
The leaked audio proved to be a learning experience for some Republican men on the ballot in November, whose spouses and female staffers impressed upon them how offensive Trump's comments were, according to people who declined to be named. In one campaign, male staffers drafted a statement condemning Trump, but when they ran it by a female staffer the message was: go stronger.
Heye criticized unnamed Republican surrogates of Trump's who he said knew better and sold out for money, television contracts or the prospect of power and "encouraged this fraud inside the party. And they knowingly have foisted a fraud upon the party. It's not like people haven't been warned."
Heye wondered if key constituencies like blacks, Hispanics, and Asian-Americans are "ever gettable" for the GOP. "My concern is that for an entire generation Donald Trump has turned them against the Republican Party," he said.
"The media and establishment want me out of the race so badly - I WILL NEVER DROP OUT OF THE RACE, WILL NEVER LET MY SUPPORTERS DOWN!" Trump tweeted. GOP election lawyer Ben Ginsberg told NPR said there's no clear route for the RNC to kick Trump off the ballot without his consent. In the end, the stakes are high.
"Voters must remember that they're not just voting for one person, they're voting for a third of the federal government," said Craig Stevens, who served in the Bush administration for seven years. "This election could influence the nomination of two Supreme Court justices and dozens of members of the federal bench, as well as bring about the selection of 4,000 political appointees who will invariably lead and implement the policy of the executive branch -- both domestically and internationally."
—With assistance from Margaret Talev, Jennifer Jacobs, and Jennifer Epstein.
Before it's here, it's on the Bloomberg Terminal.
LEARN MORE