Trump Donors Signal Continued Support Despite Lewd Video
Bill Allison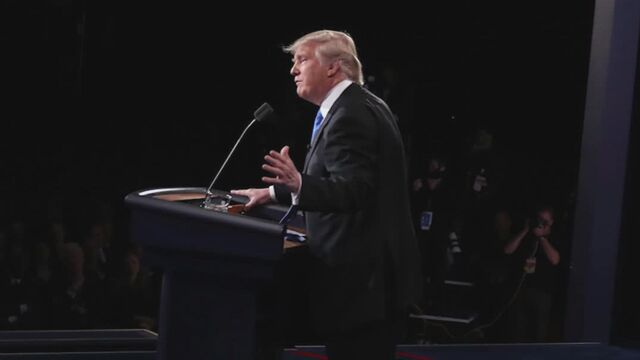 Some of Donald Trump's biggest financial backers are standing by him even after a video of the nominee making crude remarks about women set off a wave of defections by Republican leaders and threw his campaign into turmoil.
Hedge fund manager Robert Mercer and his family, who have donated about $5.8 million in support of Trump, will continue to support the candidate in the wake of the recording that was published Friday. "We are completely indifferent to Mr. Trump's locker room braggadocio," Mercer and his daughter Rebekah said in an e-mailed statement Saturday.
The 45 Committee, which has been linked to TD Ameritrade founder Joe Ricketts, also plans to keep backing Trump, said a person with direct knowledge of the group's plans. The group said Friday that it has already spent $7.2 million on ads, mail and voter surveys attacking Clinton and supporting Trump.
For many donors, the continued support is reluctant. Some major Republican funders have privately complained about Trump's comments, but they've generally concluded there is little they can do to change the situation.
The flow of money is critical at this point in the campaign. Outside spending by super-PACs and nonprofits on ads could prove pivotal for Trump as he tries to weather the storm that began Friday when the Washington Post published an 11-year-old video that captures him speaking about groping women and adultery.
At the same time, while Trump remains the biggest donor to his own campaign, he has been depending on the Republican National Committee's network of field offices to get out the vote in November. The joint fundraising committees he's set up with the RNC and state parties are the main avenues for raising money to support those efforts.
RNC spokesman Sean Spicer on Saturday disputed a report in Politico that the joint fundraising committee was temporarily suspending some of its efforts for Trump. "Despite erroneous reporting, our victory communications continue. We are working to evaluate the appropriate messaging going forward," Spicer said in a text message.
Lou Sola, a Florida GOP donor who gave more than $290,000 to Trump and the Republican party through the joint fundraising committee, said he still supports the candidate.
"Naturally the comments were indefensible, but they were private," said Sola, who had backed Senator Marco Rubio in the primaries. "The election needs to be about effective government and not political correctness. If it is about effective government then we win hands down."
Foster Friess, a social conservative who has given millions of dollars to political campaigns, also signaled support. "I am not defending Trump. I am forgiving him," he said in an e-mail, adding that he just contributed $100,000. "His promises for dramatically different policies cause us to give that more weight than a remark from a decade ago."
Trump's fundraising has long been a concern to party officials, and he's lagged far behind Democratic nominee Hillary Clinton, who's raised $767 million for her campaign and had $150 million at the beginning of October. Trump, who hasn't announced his September fundraising haul yet, said he had $97 million at the end of August. The bulk of Trump's fundraising has come from his own funds -- he has contributed about $54 million so far -- and from hundreds of thousands of small donations.
In recent weeks, Trump has increased his spending on television, reserving air time in 11 states at a cost of $40.7 million, far behind the $112 million Clinton's campaign and Priorities USA, the main super-PAC backing her, have booked, according to data from Kantar Media.
(Updates with Mercer statement in second paragraph.)
Before it's here, it's on the Bloomberg Terminal.
LEARN MORE