Kuroda Says Can Lower Short, Long-Term Rates If Necessary
by and
No plans to slow its bond purchases in the near term

Says economic growth will likely accelerate next year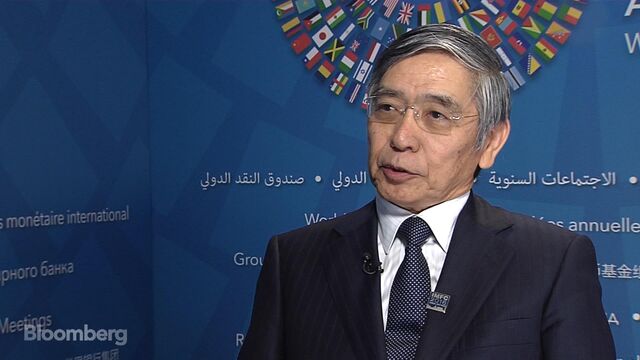 Japan's central bank still has room to increase monetary stimulus and doesn't intend to reduce its bond-buying program soon, Governor Haruhiko Kuroda said in an interview.
"For the time being, we keep the long-term interest rate around zero. If necessary, we could reduce the target rate of the 10-year Japanese government bond even lower than zero percent," Kuroda said on Saturday, speaking with Bloomberg Television's Francine Lacqua. "If necessary, we can reduce both the short end and long end of interest rates."
Kuroda spoke weeks after he led the Bank of Japan to shift its stimulus program away from pre-set government bond purchases to a yield-targeting approach, officially known as quantitative and qualitative monetary easing with yield curve control. Taking a page out of the 1940s U.S. Federal Reserve's playbook, the bank now targets 10-year bond yields, fixed at about 0 percent.
Speaking later on Saturday at the Brookings Institution, Kuroda said by committing to continue expanding the monetary base until inflation stabilizes above 2 percent, the BOJ "aims to work on people's perceptions of inflation in a more forceful manner." Asset purchases could go up or down to manage the yield curve, he said.
The remarks come as top global finance officials meeting in Washington repeated their call for governments to unleash new spending and push through reforms to reinvigorate world growth amid signs that the impact of monetary policy is waning.
Incomplete Control
While Kuroda said he's confident the policy to control the yield curve will succeed, there may be times when rates miss the target. "I don't say that we can completely control the 10-year interest rate," he said in the Bloomberg interview. "But from our experience, we can basically influence and manage the long-term interest rate to be around zero percent."
If the bank achieves its 2 percent inflation target, "then gradually the 10-year JGB rate would go up."
"If necessary, we can make new measures to cap the long-term interest rate to go beyond our current target," he said. "We even have new measures to introduce, which could avoid interest rate to go beyond the level we are targeting." 
Policy Pioneer
Japan's central bank also built on its record of pioneering new strategies by pledging to overshoot its 2 percent inflation target before it ever stops increasing the supply of money. Kuroda has repeatedly painted the Sept. 21 decision as a strengthening in monetary easing.
Even so, one former BOJ official who has been a close adviser to Prime Minister Shinzo Abe criticized last month's move away from quantitative expansion as a setback, given continuing deflationary pressures. Another senior Abe aide, Etsuro Honda, has applauded the new approach, though days ago called on the BOJ to expand easing at the next meeting, which ends Nov. 1.
Kuroda has characterized the new framework as a more sustainable one, suggesting to some analysts that BOJ easing is set to stay for years to come, and potentially beyond his tenure. The 71-year-old governor has about 18 months left in his term.
"I don't think we can reduce the JGB purchase program soon," Kuroda said in the interview. "We have to maintain this low level of interest rate to stimulate the economy and to achieve the 2 percent inflation target."
QQE Infinity
Goldman Sachs Group Inc. analysts said last month's changes "effectively amount to QQE infinity." QQE is quantitative and qualitative easing, the label for Kuroda's first easing initiative. The current label is QQE with yield-curve control, replacing the QQE with a negative interest rate introduced in January.
While 2 percent inflation remains distant, Kuroda's efforts -- part of the broader Abenomics initiative that includes fiscal stimulus and structural reforms -- have altered Japan's trajectory. The BOJ's credibility isn't wholly dependent on meeting its inflation goal, he said at Brookings.
The country is no longer in sustained mild deflation, bank lending is increasing and the jobless rate is near the level in two decades, which may help to fuel much-needed wage growth. The trend in nominal gross domestic product looks the best since the 1990s.
"The economy is likely to accelerate," Kuroda told Bloomberg Television. He added that due to still-low oil prices and a weak outlook for price increases, it may take a little longer for inflation to quicken. "It may take slightly more months to reach the 2 percent inflation rate, but we have to carefully study all relevant statistics before we review the forecast. So we may change, we may not change."

Foreign-exchange and equity markets have moved against policy makers this year, eroding some of the benefits of monetary easing. The yen has surged about 17 percent against the dollar since the beginning of 2016 while the Topix stock index is on course for its first annual decline since 2011, down about 13 percent.
Watch Next: Kuroda Says BOJ Can Lower Rates if Necessary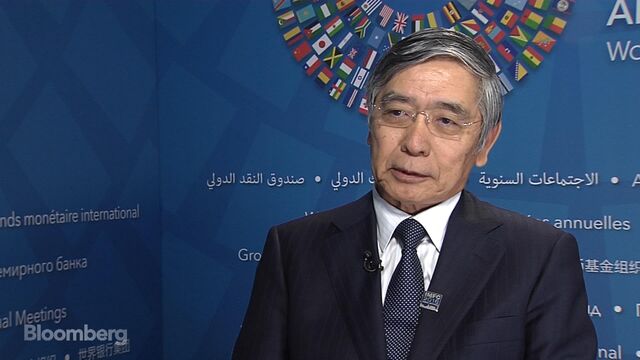 Before it's here, it's on the Bloomberg Terminal.
LEARN MORE