U.S. ELECTION WRAP: Ryan to Turn Out With Trump Ahead of Debate
Just after the release of damaging new video of Donald Trump, the awkward political alliance between the Republican nominee and Paul Ryan will be on display Saturday in Wisconsin.
By and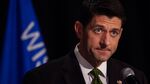 The sometimes tense, always tentative political relationship between Donald Trump and House Speaker Paul Ryan will be under fresh scrutiny Saturday as the GOP standard-bearer and the country's top-ranking elected Republican share a public stage for the first time, doing so in the wake of a leaked video in which Trump is heard making extremely lewd comments about women.
The pair are set to appear together at an annual GOP fundraiser in Ryan's southeastern Wisconsin district, along with Wis. Gov. Scott Walker and incumbent Sen. Ron Johnson, one day before Trump's second debate with Hillary Clinton
An initial advisory was unclear as to whether Trump would actually participate alongside Ryan and the other attendees; it also didn't mention Trump's name until the third paragraph; Ryan later confirmed in an interview with Laura Ingraham that all GOP candidates will appear together at the event, which is billed as a bid to "unify" Republicans and galvanize voter turnout
If Trump felt slighted at all for not getting top billing, he isn't showing it

"Wisconsin has been so amazing," the real-estate mogul said in an interview with broadcaster Jay Weber on WISN-AM, the Milwaukee Journal-Sentinel reported
"Your governor has been so supportive. And so has Paul," Trump said, referring to Ryan

The fundraiser, with ticket prices ranging from $10-$1,000, is set to take place a day after the Washington Post published a video recording in which Trump is heard having a crude conservation about women in 2005


"This was locker room banter, a private conversation that took place many years ago. Bill Clinton has said far worse to me on the golf course—not even close," Trump said in a statement. "I apologize if anyone was offended"
See story and video here

Hillary Clinton posted the report on her Twitter feed and wrote: "This is horrific. We cannot allow this man to become president."

WISCONSIN IN FOCUS
Trump's visit to Wisconsin Saturday will be his seventh visit to the Badger State since launching his presidential campaign last year, although the region he visits hasn't been that friendly to his candidacy; the billionaire lost Ryan's district to Ted Cruz in the GOP primary, 51% to 32%

Wisconsin Senate Majority Leader Scott Fitzgerald told the LaCrosse Tribune he thinks the first Trump-Ryan appearance is "great because it shows, once again, that Wisconsin is certainly in play"
Among Wisconsin Republicans, Fitzgerald is probably the strongest Trump supporter, Charles Franklin, who directs the Marquette Law School Poll, said in a phone interview

In contrast, Wisconsin Assembly Speaker Robin Vos seemed to be "much more reluctant to get on board with Trump": Franklin

The enthusiasm disparity in Wisconsin mirrors the divide over Trump within the national Republican Party, one that Ryan has awkwardly tried to bridge

AP outlined a recap of the "greatest hits" of the Trump-Ryan relationship; read it here

Walker, a former rival of Trump's for the GOP nomination, hasn't been an outspoken supporter even in individual appearances, Franklin said

"I don't have the sense that Walker events have included a ''full throated appeal for people to vote for Trump'': Franklin

And as for Sen. Johnson: ''He just tries not to talk about Trump at all,'' Franklin said
Unlike Ryan, Johnson faces a tough re-election campaign; none of the public polling shows him ahead of his challenger, former Democratic Sen. Russ Feingold: Franklin

Clinton faces her own challenge with enthusiasm among her party's voters; in last month's Marquette survey, 48% of Wisconsin Democrats and independents who lean Democratic said they would prefer Sanders as the nominee while 43% were content with Clinton
Clinton hasn't campaigned in Wis. since the April primary, according to the Wisconsin State Journal, although her surrogates have been out in full force, with Bernie Sanders visiting Madison and Green Bay earlier in the week
Former President Bill Clinton is set to be in Milwaukee on Saturday to encourage early voting; he won Wisconsin in both 1992 and 1996
Marquette's polling of likely voters last month showed Clinton leading Trump in Wis. 44%-42% in a head-to-head matchup, within the survey's margin of error; 12% didn't express a preference

In August, the same poll had Clinton with 45% vs Trump's 42%

Polling data shows that Trump continues to underperform by historic Republican standards in the Milwaukee suburbs, which are typically the strongest GOP territory in the state as well as one of the highest voter turnout areas; yet he's ''over performing" in the Green Bay area, a region that leans GOP, Franklin said

Meanwhile, Clinton is under performing in Dane County, which includes Madison and is the state's second richest source of Democratic voters after Milwaukee, Franklin said

Clinton is getting about 57% of the vote in a four-way race while Libertarian Gary Johnson ranks second with 17% and Trump trails in third place with 15% and Green Party's Jill Stein last with 5%;

Clinton should be as high as 65-70% given Trumps's unpopularity, according to Franklin

The third-party candidates are "costing Clinton a significant number of total votes she would like to have statewide," he said
RealClearPolitics average of polls shows Clinton with a 5-point lead in a four-way presidential race
Polling reflecting views after the Sept. 26 Trump-Clinton debate haven't come out yet; for now, the Badger State represents a "quiet symbol of bipartisan dissatisfaction with the choices presented by the Republican and Democratic parties," Bloomberg's Tim Jones wrote Sept. 22

DEBATE #2
Clinton and Trump face off in their second presidential debate Sunday at Washington University in St. Louis; the 90-minute debate will be a town-hall format, with the questions split between the audience and moderators Martha Raddatz of ABC News and Anderson Cooper of CNN
See Bloomberg QuickTake's on debate here
The financial community may want to brace itself for the debate because the town-hall setting "lends itself to attacks on Wall Street and the banking industry, so investors should be prepared for additional negative headlines," Keefe, Bruyette & Woods analysts Brian Gardner and Michael Michaud wrote in a note

Trump and Clinton may "be asked about whether they think some Wall Street executives should be jailed after the financial crisis and whether the government should break up big banks"

The media industry, however, may see high TV viewership again after the first debate drew a record debate audience of 84 million, Bloomberg Intelligence analysts Geetha Ranganathan and Paul T. Sweeney wrote

The face-off, though, may pressure NFL ratings for the "Sunday Night Football" game between the New York Giants and Green Bay Packers

Trump said at a New Hampshire campaign stop that the problem at the first debate wasn't a "bum" microphone but rather that soundboard operators were "oscillating" and changing his voice levels, New York Times reported

Trump was late to the first debate walk-through and it's unclear how thorough of a sound check he did; Clinton aides helped set her audio levels at sound check: NYT

POLLS
Clinton leads Trump 45%-40% in new Quinnipiac University Poll

Survey comes two weeks after same poll found she was neck-and-neck with Trump among likely voters, with her gains sparked by added support from women and non-white voters
Clinton has 20-point lead over Trump among women and a 45- point lead among non-whites
Libertarian Party's Gary Johnson snags 6% of all likely voters surveyed and Green Party candidate Jill Stein has 3%
Poll also finds Clinton's doing better among independent voters; while independents backed Trump over her 42% to 35% in Sept. 26 polls, that's shifted with her now getting 46% of independents and Trump's getting 32%

Ten days before Colorado's first all-mail election begins, at least a quarter of the state's notoriously unpredictable voters are still up for grabs, Bloomberg's Jennifer Oldham reported

ENDORSEMENTS
Denver Post endorsed Clinton for president, saying the Democratic nominee is "without question the most qualified candidate in the race for president"

Newspaper's editorial board said it considered supporting Libertarian Gary Johnson in a "principled protest vote"
Trump is "a lewd, bigoted, untested blow-hard whose reckless actions and thoughtless decision-making processes put him in a class never before seen on such a stage": Denver Post

TRUMP TAXES
A new question surrounding Trump's business empire emerged recently, thanks to the publication of a 1995 New York state tax document: How could he have had a $916 million personal loss from troubled ventures that burned his creditors?

Now tax-law practitioners and academics have put forth a possible answer: Trump may have used a strategy that allowed struggling real-estate investors to turn unpaid debts into personal tax breaks, Bloomberg's Lynnley Browning wrote
Read all about it here

ADVERTISING
Trump camp is shaking up its ad plans, AP reported

Campaign plans to spend almost $1 million next week in Pennsylvania and $1.2 million there in each of the next three weeks, according to Kantar Media's political ad tracker
In Ohio, the GOP nominee will spend more than $700,000 next week and about $1 million in each of the following three weeks
At the same time, Trump is slashing his media plans for Maine and Iowa; campaign spokesman Jason Miller said that reductions have occurred in "over-performing markets"
NOTE: Trump has been ahead in recent Iowa polls
The 45 Committee Inc., a group that has not registered with the Federal Election Commission as a political committee, disclosed spending $7.2 million on ad buys, direct mail and surveys attacking Clinton and aiding Trump

Marks the third largest reported expenditure by an outside group on behalf of Trump so far in 2016
Herndon, Va., post office box given as address

ETC
President Obama, speaking at a Democratic fundraiser in Chicago, said he's "confident" Clinton will win in November, though not "overconfident"

"If we are, as we say in church, cheerful givers, then I think we have a shot" at success in election, Obama said
Trump said Friday that immigrants are coming over the U.S.-Mexico border to vote in the presidential election; see full story by Bloomberg's Kevin Cirilli
The N.Y. businessman told CNN that he stands by his long-held assertion that five men imprisoned for more than a decade were guilty of the 1989 rape of a banker jogging in NYC's Central Park, despite their exoneration by DNA evidence, another suspect's confession and a $40 million city settlement; read Bloomberg story here
Bloomberg's Patricia Laya looked at how Trump and Democratic views stack up against the reality of the U.S. jobs market; click here to read
Clinton and Trump have mainly steered around the hot-button issues that long have defined America's culture divide --abortion, gay rights and religion. The new social battle lines are being drawn instead on race, gender and immigration; read full Bloomberg story here

CONGRESSIONAL ELECTIONS
SENATE RACES (Republicans hold 54-46 majority)
IL: Obama will raise campaign funds Oct. 9 in Chicago for Democratic Rep. Tammy Duckworth's campaign to unseat Republican Sen. Mark Kirk, Associated Press reported
IN: Senate Leadership Fund, a Republican super-PAC, released TV ad saying Democrat Evan Bayh "made Washington work --for Evan Bayh" by advocating for Wall Street and big banks on corporate boards and at a firm that does lobbying work

Bayh was never a registered federal lobbyist
Senate Leadership Fund supports Republican Rep. Todd Young in toss-up race for retiring Republican Sen. Dan Coats's seat
National Rifle Association's Institute for Legislative Action in TV ad invoked vacancy on Supreme Court and attacked Bayh for voting against "pro-gun" Supreme Court Justices John Roberts in 2005, Samuel Alito in 2006 and for "anti-gun Justices" Sonia Sotomayor in 2009, Elena Kagan in 2010

"If Evan Bayh wins, you can kiss your gun rights 'Bayh, Bayh,'" narrator says
NH: Republican Sen. Kelly Ayotte began Oct. with $4.5m in campaign cash-on-hand vs. $3.1m for Democratic Gov. Maggie Hassan, though the challenger out-raised the senator by $5.4m to $3.3m in Q3, according to campaign releases
PA: Republican Sen. Pat Toomey, Democrat Katie McGinty and their allies have paid for TV ads that have aired more than 25,400 times on broadcast stations in past 30 days, most of any Senate race, according to Bloomberg analysis of Kantar Media/CMAG data

Ads promoting Toomey's support for expanded gun-background checks or McGinty's backing of gun control measures have aired in populous Philadelphia market only; ads opposing trade pacts have run in markets outside Philadelphia and are primarily sponsored by McGinty and Democrats, though Toomey also opposes Trans-Pacific Partnership in current form

HOUSE RACES (Republicans hold 246-186 majority)
CA-24: Democrat Salud Carbajal endorsed by Ventura County Star editorial that praised Republican Justin Fareed but said "more practical course" is to back Carbajal, who "would provide residents with solid, effective representation in Washington"

Carbajal, a Santa Barbara County supervisor, favored to win Democratic-leaning district of Democrat Lois Capps, who isn't seeking re-election
CO-06: Republican Rep. Mike Coffman endorsed by Denver Post editorial page, which said the four-term Republican from suburban Denver has been "able to vote against fellow Republicans when he felt the needs of his constituents and the country called for him to do so"

Editorial noted Coffman TV ad in which he said he didn't care much for Trump; Post referred to Democratic state Sen. Morgan Carroll as a "worthy opponent" who has "been the partisan in this race"
MN-03: Republican Rep. Erik Paulsen's campaign released TV ad featuring women praising his bill to target sex trafficking

House passed the bill in Jan. 2015; Obama in May 2015 signed into law a broader anti-trafficking measure

Paulsen opposed for 4th term by Democratic state Sen. Terri Bonoff in competitive district that includes parts of Hennepin, Anoka and Carver Counties just west of Twin Cities
NH-01: Republican Rep. Frank Guinta and Democratic ex-Rep. Carol Shea-Porter are opponents for fourth straight election in the "swingiest congressional district in the nation," Boston Globe's James Pindell reported in profile of race
NJ-05: Republican Rep. Scott Garrett has "spent his legislative career trying to rein in financial regulators" and thus "surprised" many in industry with legislation that would give more power to a regulatory body, Bloomberg's Robert Schmidt reported

Garrett's bill to give more power to Public Company Accounting Oversight Board is opposed by accounting firms; the "Big Four" canceled fundraiser for Garrett after Politico reported in July 2015 on remarks he made about House Republican political organization supporting openly gay candidates
American Medical Assn's PAC sent $2,500 last month to Democratic challenger Josh Gottheimer, according to Federal Election Commission filing; business and association PACs rarely donate against incumbents
Garrett, a senior member of Financial Services Cmte, seeking eighth term against Gottheimer, a former Bill Clinton speechwriter, in northern N.J. district where most people live in Bergen County near NYC
NY-01: Republican Rep. Lee Zeldin and Democrat Anna Throne-Holst debated yday on Long Island News Radio

Zeldin, who's seeking a second term, and Throne-Holst, the former Southampton Town Supervisor, are running for competitive district that includes the Hamptons and other areas in eastern Suffolk County
NY-21: Democrat Mike Derrick's campaign in TV ad said he would "serve the North Country" district compared with Republican Rep. Elise Stefanik "serving Trump, Washington, and her donors"

Stefanik, who's seeking a second term, said at candidate debate this week that she's been critical of both presidential nominees but that Trump and not Clinton will be "willing to work with a Republican Congress" on issues like immigration, health care, gun rights, defense spending
PA-08: Democratic Congressional Campaign Cmte in TV ad said Republican Brian Fitzpatrick and Trump back a "dangerous agenda for women" that includes defunding Planned Parenthood

Narrator says Fitzpatrick "is not Congressman Mike Fitzpatrick," the candidate's brother who isn't seeking re-election in competitive district dominated by Bucks County; Democratic nominee is state Rep. Steve Santarsiero
Before it's here, it's on the Bloomberg Terminal.
LEARN MORE