U.K.'s Negative Brexit Message Clouds Outlook, Dijsselbloem Says
by and
Eurogroup head says Britain risks job losses with May's stance

Dutchman tells U.K. to make the economy 'very high' priority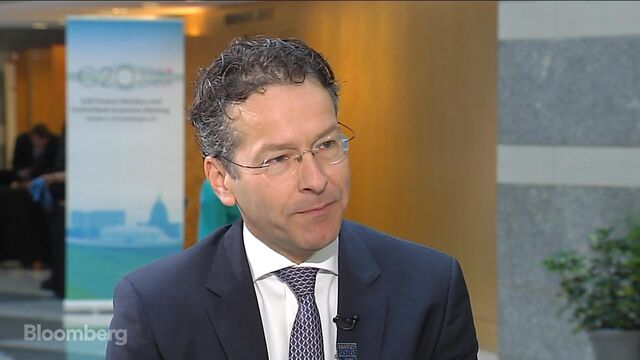 The anti-business tone sounded by U.K. Prime Minister Theresa May's government is clouding the outlook for financial markets and the economy in Britain as the country prepares to leave the European Union, Eurogroup head Jeroen Dijsselbloem said.
The British leader indicated at a Conservative Party conference in Birmingham earlier this week that she will give priority to controlling immigration over defending business interests in coming Brexit negotiations with the EU.
"The message coming from that Conservative Party congress was negative -- negative for the U.K. business interest in the long term," Dijsselbloem said in an interview with Bloomberg Television from Washington on Friday. "That could cost potentially jobs in the U.K."
The pound plunged to a 31-year low on Friday, with traders saying the slump was exacerbated by computer-initiated sell orders. The currency was already tumbling amid concern about a so-called hard Brexit and Friday's slide took it to the weakest level since March 1985.
The currency's decline shows that "markets are, apart from possible technological problems, reacting to the negative message for business and economy coming from the government in the U.K.," Dijsselbloem said. "It would be in the interest of the U.K., the U.K. government, to put the economy if not first, very high on their priority list -- and that doesn't seem to be the case," he said.
Passporting Rights
Concerns are growing at banks in London's financial district, where thousands of jobs could be at stake if Britain loses passporting rights that enable companies to sell financial products throughout the EU.
By taking a tough stance on immigration, May is reaching out to the 52 percent who chose to leave the EU in a June referendum. Resentment had been bubbling over an open-door policy that allows free movement of labor within the 28-nation bloc, with voters saying that it put an unsustainable strain on schools, jobs and social benefits.
"If the U.K. wants to remain part of the internal market or have full access to it, they will have to respect the four essential freedoms, including free movement of people," Dijsselbloem said. "The prime minister has been presenting it as if they can have the good bits, keep all the economic advantages and the trade relation without having less attractive bits -- and I don't think that's for sale."
Before it's here, it's on the Bloomberg Terminal.
LEARN MORE