Trump Says Town Hall-Style Event Not Practice for Sunday's Debate
He denies what campaign sources said was one purpose of the gathering, and accuses Clinton of "resting."
By and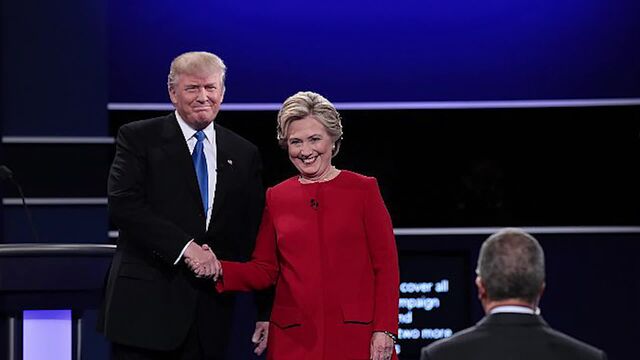 Donald Trump made it clear at Thursday's town hall-style event in Sandown, New Hampshire, that the hastily organized gathering wasn't a practice run for Sunday's debate rematch with Hillary Clinton.
"This has nothing to do with Sunday. We're here because we just wanted to be here. Hillary, frankly, they're talking about debate prep—that's not debate prep. She's resting. I want to be with the American people," the Republican presidential nominee told an invited audience of 300 people. "The narrative is so foolish. I love the people of New Hampshire."
Still, the event had some of the trappings of a town-hall style debate. There was a two-minute time limit; questions written on index cards; and even some moments of one-on-one audience interaction with Trump, who typically prefers large-scale rallies over more intimate venues.
There were also friendly faces in crowd, including New Jersey Governor Chris Christie, as well as softball questions from Trump's supporters. The first, from a man named Matthew, was whether Trump held back against Clinton in the first debate and planned to do so again on Sunday. 
"I'd much rather it be on policy," Trump responded. "I didn't like it getting into the gutter."
The typically bombastic real-estate developer spoke in a subdued tone similar to the one he struck at several rallies ahead of the New Hampshire primary.
Though he did spend time lobbing insults at Clinton—as well as CNN's John King and CNBC's John Harwood—Trump also showed rare glimpses of a political style he hasn't used frequently since winning the New Hampshire primary. He discussed watching his father conduct business while he played with building blocks, and he urged young people to "do what you love" even if their parents disagreed.
The event, which took place three days before Trump and Clinton are scheduled to meet in their second matchup of the election, comes as polls have tightened in New Hampshire. Clinton and Trump are now in a statistical tie, according to a new Suffolk University/Boston Globe poll, in what is considered a must-win swing state for Trump.
The first debate last month at Hofstra University on New York's Long Island set a viewership record of 84 million people, and Trump was criticized for not adequately preparing. Clinton's standing in opinion polls rose in the crucial battleground states including Nevada and Florida. New Hampshire, which hosts the nation's first primary, was the site of Trump's first victory in a crowded Republican primary field in February.
Campaign officials added the town hall-style event to Trump's schedule on Tuesday, in part to provide additional practice to the candidate ahead of Sunday's debate, according to campaign sources. For the candidate, however, Thursday's event had nothing to do with round two. 
"Forget debate prep," Trump told the crowd. "Do you really think Hillary Clinton is debate prepping for three days? She's resting."