The Cities Where Rent Is Rising Fastest
Rents are still rising—but at a more modest pace than in recent years
By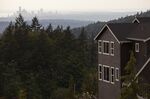 Your landlord will probably never lower your rent—but at least you can take solace that rents aren't rising as quickly as they used to. 
Rents for single-family homes are likely to rise by 1.7 percent in the year ending August 2017, according to new data from Zillow. That continues the trend of slower rent growth during the current calendar year, and it marks a big shift from 2015, when rents in San Francisco, among other cities, jumped by more than 10 percent.
In general, the metropolitan areas where rents are growing the fastest were located in the booming tech hubs on the West coast, the Zillow data shows. Also among the metros where rent is rising fastest: Cincinnati, which isn't known for its ocean vistas or for its tech economy.

Estimating median rents at the level of a metropolitan area is a slippery business. Even the biggest rental listing sites list just a small percentage of the local housing stock. And compared to home sales, which get recorded in public databases, rental agreements are casual transactions. That's particularly true at the bottom end of the rental market, where landlords are less likely to list apartments online, and more likely to rely on word of mouth.

The good news for renters is that in past years, rising rents encouraged developers to launch new apartment projects, helping to ease demand. In some cities, the construction cycle has come full circle, with builders pressing pause on high-end units as the market for luxury rentals has become saturated. 
The bad news: the share of renters spending at least half their income on rent keeps rising. 
Before it's here, it's on the Bloomberg Terminal.
LEARN MORE