Shifting QE Debate Offers Comfort for New Zealand, English Says
By
Finance minister says he would like a weaker currency

Economy is doing well but China is high on the worry list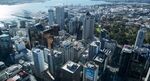 Here's one small economy that's happy to hear talk of the limits to quantitative easing: New Zealand.
Bill English, finance minister of the Pacific nation that's best known for its sweeping natural beauty and world-beating rugby team, said an emerging debate about how to end massive monetary easing will help his economy. 
That's because ultra-loose policy in Japan, Europe and the U.S. has prompted their central banks to scoop up bonds to keep yields low, which in turn inflated New Zealand asset prices as investors hunted for higher returns. Any talk of an end to so-called QE should take pressure off the New Zealand dollar and help exporters, English said.
"It's a bit more reassuring to hear, here, a growing consensus that we're reaching a point where the marginal benefits are minimal," English said in an interview Friday in Washington where he is attending the International Monetary Fund's annual meetings. "There was an assumption that QE would go on forever."
While the Bank of Japan and the European Central Bank continue to rely on QE in a battle to revive consumer-price growth, economists and policy makers are increasingly debating the policies' limitations. There have been negative side effects including financial-stability concerns and especially the simple difficulty of finding enough suitable assets to acquire.
Microeconomic Reform
The BOJ has shifted its policy framework to keep it sustainable, while ECB staff have been told to work out how to adjust the rules of QE so it can be kept active as long as needed.
That's putting the spotlight on governments to boost growth through fiscal spending or microeconomic reforms.
English said he'd like to see a lower New Zealand dollar to help exporters, something that would be nudged along if the U.S. Federal Reserve increased interest rates. A U.S. hike would support the dollar and put downward pressure on New Zealand's currency, also known as the kiwi.
"Some people tell us the kiwi is going to roll," he said. "What would suit us is a bit of the pressure coming off." Still, he added that businesses have adjusted to the currency's strength. "Assumptions about what we need have probably changed a bit."
Accelerating Growth
New Zealand's economy is growing at the fastest annual pace in two years amid a construction boom as record-low borrowing costs and surging immigration fuel demand. Gross domestic product increased 3.6 percent in the second quarter from a year earlier compared with 3.3 percent in Australia, 2.2 percent in the U.K and 1.3 percent in the U.S.
The economy is among the fastest growing in the developed world but the activity hasn't stoked inflation, which has been below the central bank's 1-3 percent target for seven straight quarters. Reserve Bank Governor Graeme Wheeler said Sept. 22 that a further reduction in the official cash rate will be needed, and economists forecast a quarter-point cut to a record-low 1.75 percent in November.
Prime Minister John Key will seek a fourth term next year, and is expected to again campaign on his government's strong financial management. English returned the budget to surplus in 2015 and is forecasting improving finances that may allow him to offer income tax cuts next year.
His opponents argue that record immigration overstates growth, which is less spectacular on a per-capita basis. Growth may also slow as the rebuilding that followed severe earthquakes that struck the city of Christchurch in 2010-11 comes to an end.
Beyond QE, English ranks China's economy on his worry list as it transitions from one dependent on old growth drivers such as exports and heavy industry to one fueled by services and consumption instead.
Still, he's upbeat on the outlook for New Zealand.
"We've had a bit more growth than expected and expenditure has been better than expected."