Scotland Needs to Consider All Brexit Options, Sturgeon Says
By
First minister says in interview country needs patience

Another independence vote not the only potential outcome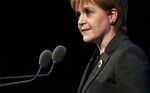 Scottish First Minister Nicola Sturgeon said now is the time to be patient over the U.K.'s plan to leave the European Union and look at whether another referendum on independence is in her country's best interest.
In an interview on a trip to Reykjavik, Sturgeon said Scotland should take its time to explore how to protect its economy and financial industry from the U.K.'s plan to prioritize immigration controls over free trade. Her semi-autonomous government in Edinburgh is looking at how to retain close ties with the EU regardless of the outcome of Prime Minister Theresa May's Brexit talks.
"We're looking at all possible options and looking at whether there are options that even with Scotland staying within the U.K. and the U.K. leaving the EU, can nevertheless allow Scotland to retain a closer relationship," she said. "With the EU, we're obviously at this stage trying to make sure that there's an understanding of Scotland's position."
Sturgeon challenged the plan to withdraw Scotland from the EU after every region of the country of 5.4 million voted to remain. In the immediate aftermath of the June 23 Brexit decision, she said another independence vote was "highly likely," though since then has toned down her stance. The pro-independence Scottish National Party, which she leads, last month kicked off a new campaign to build support for breaking away from the U.K. and its record membership will convene next week for an annual meeting in Glasgow.
For analysis of Scotland's drive for independence, click here
A key trigger for the SNP to pursue another independence referendum -- the last one was in September 2014 and 55 percent of voters decided to remain in the U.K. -- is a clear majority in the polls. The survey by Kantar TNS published last month found 53 percent of people were opposed to independence and 47 percent in favor after excluding respondents who were undecided.
"We're in a very, very uncertain time because of the Brexit vote," Sturgeon said. "So we need to exercise a degree of patience to see what transpires."
Before it's here, it's on the Bloomberg Terminal.
LEARN MORE