NFL Blames 'Unprecedented Interest' in Election for Ratings Drop
by
League sees no evidence that player protests affect viewership

Sunday night game likely to be affected by debate, NFL says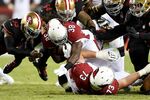 The National Football League is seeking to ease concerns about a sharp drop in TV ratings during the first month of the season, citing "unprecedented interest" in the presidential election as one of several reasons viewership is down.
Total NFL viewership through four weeks declined 11 percent from last year, with prime-time ratings taking the biggest hit, according to a memo signed by NFL senior executives Brian Rolapp and Howard Katz.
"While our partners, like us, would have liked to see higher ratings, they remain confident in the NFL and unconcerned about a long-term issue," Rolapp and Katz wrote in the memo sent Thursday to the NFL's Media Committee.
TV networks are giving away more commercial time this NFL season than a year ago to make up for one of the worst ratings declines in a decade, a rare sign of weakness for the biggest draw on television. So far this season, TV networks have missed their audience estimates by about 20 percent, requiring them to offer advertisers what the industry calls "make-goods," according to one ad buyer who asked not to be identified discussing private information.
The NFL said "a confluence of events" is affecting ratings, including the election between Donald Trump and Hillary Clinton diverting viewers to cable news outlets. ESPN's "Monday Night Football" game on Sept. 26 between the New Orleans Saints and Atlanta Falcons aired at the same time as the first presidential debate, which drew a record-breaking 84 million viewers to the football game's roughly 8 million. The next debate on Sunday night will go head to head with the game between the New York Giants and Green Bay Packers, and the league is expecting weak ratings.
NFL viewership has suffered before in election years, most recently in 2000 during the campaign between Al Gore and George W. Bush, according to the memo. This year, however, NFL ratings are facing a tough comparison from high early-season ratings the past two years, it said.
The league also discounted the notion that ratings have fallen because San Francisco 49ers quarterback Colin Kaepernick and other players have refused to stand for the National Anthem to protest social injustice.
"We see no evidence that concern over player protests during the National Anthem is having any material impact on our ratings," according to the memo.
Overall, NFL viewership increased 27 percent over the past 15 years, while prime-time broadcast ratings decreased 36 percent. "The NFL continues to be far and away the most powerful programming on television," Katz and Rolapp said in the memo.
Before it's here, it's on the Bloomberg Terminal.
LEARN MORE