More Than 1 Million Without Power as Matthew Skirts Florida
by
Storm seen tracking near the Atlantic coast next two days

Kinder Morgan shuts fuel pipeline and LNG import terminal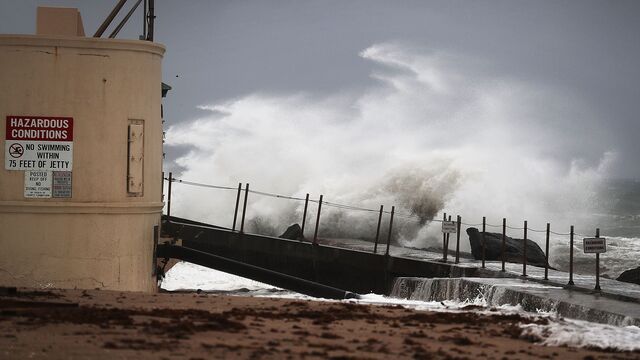 More than one million Florida homes and businesses were without power on Friday after Hurricane Matthew lashed the coast with high winds and heavy rain.
Volusia County, which includes Daytona Beach, and Brevard County, which includes Cocoa Beach, were hit hardest by power failures, according to an e-mail Friday from the office of Florida Governor Rick Scott.
Matthew, still a Category 3 storm with winds of 115 miles (185 kilometers) an hour, was 35 miles east of St. Augustine and following the shoreline, the U.S. National Hurricane Center in Miami said in an advisory at 3 p.m. New York time. At least 2 million people have been ordered to flee its path, with evacuations under way in Georgia and South Carolina.
"While we are fortunate that Matthew has yet to make landfall in Florida, we still have a deadly Category 3 hurricane a few miles offshore," Eric Silagy, chief executive officer of NextEra Energy Inc.'s Florida Power & Light utility, said in a statement. "Based on our grid's performance thus far, we're seeing fewer outages and faster restoration times."
There's about a 20 percent chance for Matthew to come ashore in Florida later Friday, said Jeff Masters, co-founder of Weather Underground in Ann Arbor, Michigan. South Carolina stands a greater risk of taking a direct hit from the heart of the storm early Saturday, he said.
Crews have restored power to about 262,000 customers, FP&L said on its website. All power should be restored in Miami-Dade and Broward counties, and to a majority of customers in Palm Beach County, by the end of the day, the company said in an earlier statement.
Kinder Morgan Inc. shut its fuel terminal in Orlando, as well as the Central Florida Pipeline that supplies it with diesel and jet fuel from Tampa, company spokesman Richard Wheatley said in an e-mail. Kinder is evacuating and closing its Elba Island liquefied natural gas import terminal near Savannah, Georgia, until the storm passes.
(In an earlier version, the number of customers without power was corrected.)
Before it's here, it's on the Bloomberg Terminal.
LEARN MORE