Lew Says Pound Crash Needs Analysis Before Exact Cause Is Known
by
FX rates generally have been stable, he tells reporters

Says best thing for U.K. is high level of integration with EU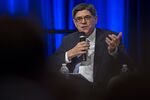 U.S. Treasury Secretary Jacob J. Lew said it's too soon to comment on the U.K. pound's decline, adding that global currencies have remained generally stable.
He spoke to reporters on Friday after the sterling plunged as much as 6.1 percent in early trading, as investors speculated human error led to the decline. While the currency pared some of its losses during the day, it still posted its worst weekly decline since the British voted to abandon the European Union in June.
"It takes some time to figure out why movements like that occur," Lew told reporters in Washington, where finance ministers from around the world are gathered for the annual meetings of the International Monetary Fund and World Bank. "We've learned in the past that the things people conclude on the day of a move like that are very often wrong. It takes some analysis, and that can take some time."
"In general I would say that we have seen that movements in exchange rates are behaving in a stable way globally, responding to macroeconomic movements," he also said.
The British currency's decline also reflected investor concern that the U.K. is headed for a so-called hard Brexit that would sacrifice access to the EU's single market in return for greater control over immigration. Lew reiterated that the best outcome for both sides would be a high level of integration, urging negotiators to keep talks amicable.
In the press briefing, the Treasury secretary declined to comment specifically on the financial challenges facing Deutsche Bank AG. Lew said it's generally important for financial institutions to have deep capital buffers.
Before it's here, it's on the Bloomberg Terminal.
LEARN MORE