Italy's Padoan Pledges More Reforms Even If Referendum Is Lost
by
Finance minister Pier Carlo Padoan in Bloomberg TV interview

Economic growth will help address banks' soured loans burden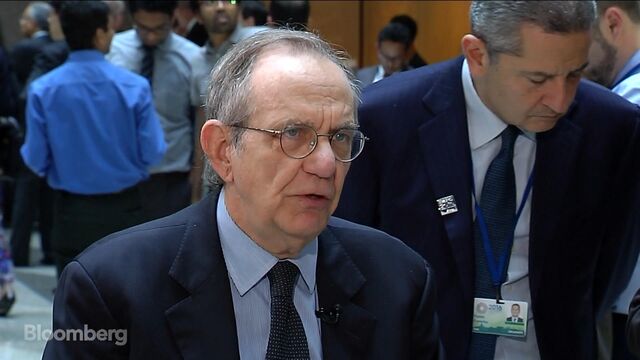 Italian Finance Minister Pier Carlo Padoan said his government will continue on its reform path even if voters reject a key package of constitutional changes.
"In Europe, every day is a day when you can have the perfect storm but I am confident that the referendum will have a positive outcome," Padoan said in a Bloomberg Television interview on Friday. "And even if it's not the case, we will continue, the government will continue to press with the reform agenda."
Voters on Dec. 4 will decide whether to accept or reject a set of constitutional reforms aimed at making Italy's crisis-prone political system leaner and more stable. While Prime Minister Matteo Renzi initially linked the fate of his government to the outcome of the referendum, he has backtracked somewhat in recent interviews as surveys showed the "No" camp edging ahead.
In the interview, Padoan reaffirmed his conviction that the "Yes" vote will eventually prevail while trying to assuage investor concerns that the country will be destabilized if the reform is rejected.
Lost Opportunity
"If unfortunately there is a 'No' vote, in that case, let's face it, the country would have lost an opportunity which will not come back soon and things will continue a little bit like in the past," he said. "After all, we have done reforms with the previous legislation system, with the previous parliamentary system, we will continue to do so if needed."
On Italy's beleaguered banks, which are struggling to offload a 360 billion euros ($403 billion) burden of non-performing loans, Padoan said that continued economic growth will help address the issue while calling for more consolidation in the banking industry.
"I am confident that, as we move forward, more growth will bring back NPLs to a more normal level," he said. "The banking industry all over Europe has to consolidate, has to change its business models, has to incorporate new technologies."
Earlier on Friday, Italy's central bank governor Ignazio Visco said that concerns over the country's banking system are overblown.
"Talking about Italian banks as if all banks in Italy had problems is wrong," he said in a separate interview with Bloomberg TV. "There are a substantial number of banks in Italy that are doing fine."
Before it's here, it's on the Bloomberg Terminal.
LEARN MORE