IMF Says Board May Approve Egypt Loan Accord by Early November
Nafeesa Syeed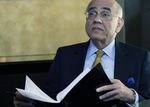 The International Monetary Fund said its board may be able to approve a $12 billion accord with Egypt by early November, as the country seeks alternative sources of financing to complement the IMF loans.
Egypt is making "very good progress" on obtaining about $5 billion to $6 billion of additional funds, and is discussing the issue with Saudi Arabia, China and G7 governments, IMF Middle East and Central Asia chief Masood Ahmed told reporters in Washington on Friday.
"I am hopeful that we will be able to be in a position to firm up these financing pledges in the coming weeks," Ahmed said. That would enable the IMF board to consider the Egypt program in late October or early November, and release an initial $2.5 billion tranche "within a day or so of going to the board," he said.
Egypt is turning to the IMF as it seeks to restore investor confidence in an economy that's been undermined by persistent political unrest since the Arab Spring uprising of 2011. Many investors and tourists have shunned the country since then, hobbling economic growth and putting pressure on Egypt's foreign-currency reserves.
The Egyptian pound has plunged to record lows in recent days on speculation that an IMF deal will be accompanied by a devaluation of the currency. Finance Minister Amr El-Garhy declined to comment on that possibility when he spoke in Washington yesterday. He also said that the country is very close to securing the additional funds required by the IMF.
Before it's here, it's on the Bloomberg Terminal.
LEARN MORE