Hurricane Matthew Weakens After Battering Florida From Offshore
By and
Insurers may be spared the worst if storm skirts land: analyst

About 827,000 Florida homes and businesses have lost power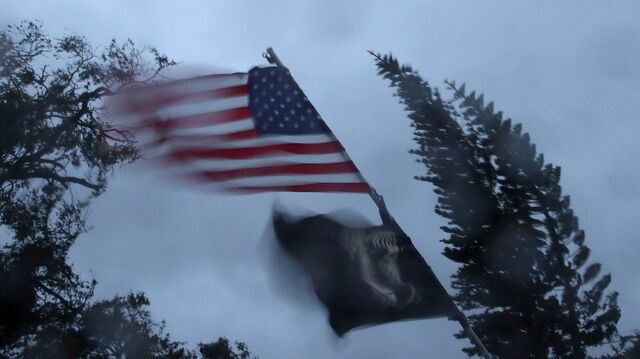 Hurricane Matthew's odds of a direct hit on Florida fell sharply and the storm began to weaken after battering coastal communities and cutting power to nearly a million homes and businesses.
Matthew, still a Category 3 storm with winds of 115 miles (185 kilometers) an hour, was 35 miles east of St. Augustine and following the shoreline, the U.S. National Hurricane Center in Miami said in an advisory at 3 p.m. New York time. About 827,000 homes and businesses were without power, according a noon statement from the office of Florida Governor Rick Scott.
"Although weakening is forecast during the next 48 hours, Matthew is expected to remain a hurricane until it begins to move away from the United States on Sunday," the hurricane center said.
Matthew's chances of making landfall overnight in Florida fell to 20 percent, according to Jeff Masters, co-founder of Weather Underground in Ann Arbor, Michigan. Insurers may have escaped greater damages that would come with a direct hit, said David Havens, an analyst with Imperial Capital LLC in New York.
"It's still early -- and Matthew is far from over -- but it appears to me, at least, that the worst case outcome for this storm has been averted -- at least as it relates to insurers," Havens said in a e-mail. "Flooding may remain a huge problem in Daytona, Jacksonville and the low-slung Georgia and South Carolina coasts -- but flood damage is largely not covered by private insurance."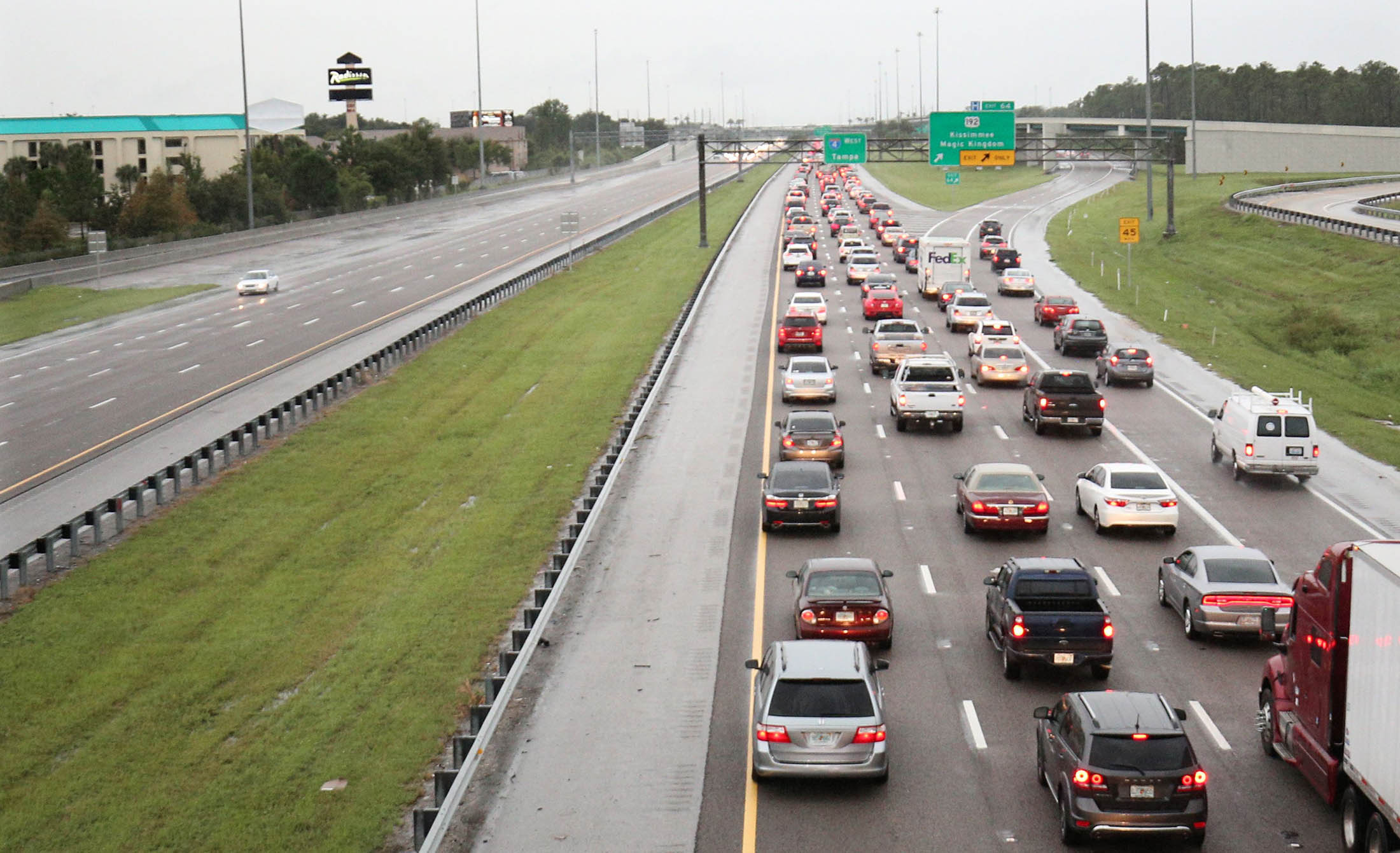 Should it make landfall at its current strength, Matthew would be the strongest storm to hit the U.S. since 2005. At least 2 million people have been ordered to flee its path, with evacuations under way in Georgia and South Carolina.
Across the U.S., 1,813 flights were canceled Friday, most originating from Florida, according to FlightAware, a Houston-based airline tracking company. Matthew has shut the Buckeye oil terminal in Freeport, Bahamas, and could disrupt petroleum shipments along the U.S. East Coast.
Dangerous Hurricane
President Barack Obama said Friday people living on the coast should remain on guard and heed evacuation notices. Storm surges, like the one that flooded the New York area during superstorm Sandy, could add to the damage.
"This is still a really dangerous hurricane," Obama said after a meeting with FEMA officials.
Matthew could cause $20 billion to $25 billion in economic losses, said Chuck Watson, a disaster modeler with Enki Research in Savannah, Georgia. This would make it one of the costliest hurricanes in U.S. history, according to the National Oceanic and Atmospheric Administration.
The U.S. hasn't been hit by a major hurricane since Wilma struck Florida in October 2005. Katrina, also in 2005, caused about $154 billion in damage, adjusted for inflation, making it the costliest in U.S. history, according to the National Oceanic and Atmospheric Administration. Matthew has already devastated the Caribbean.
"It weakened and then it skirted the coast, so it didn't turn out to become the super storm hitting Florida, which still was a possibility last night," said Jonathan Meagher, a meteorologist at Allianz Re, the reinsurance unit of Allianz SE, Europe's biggest insurer.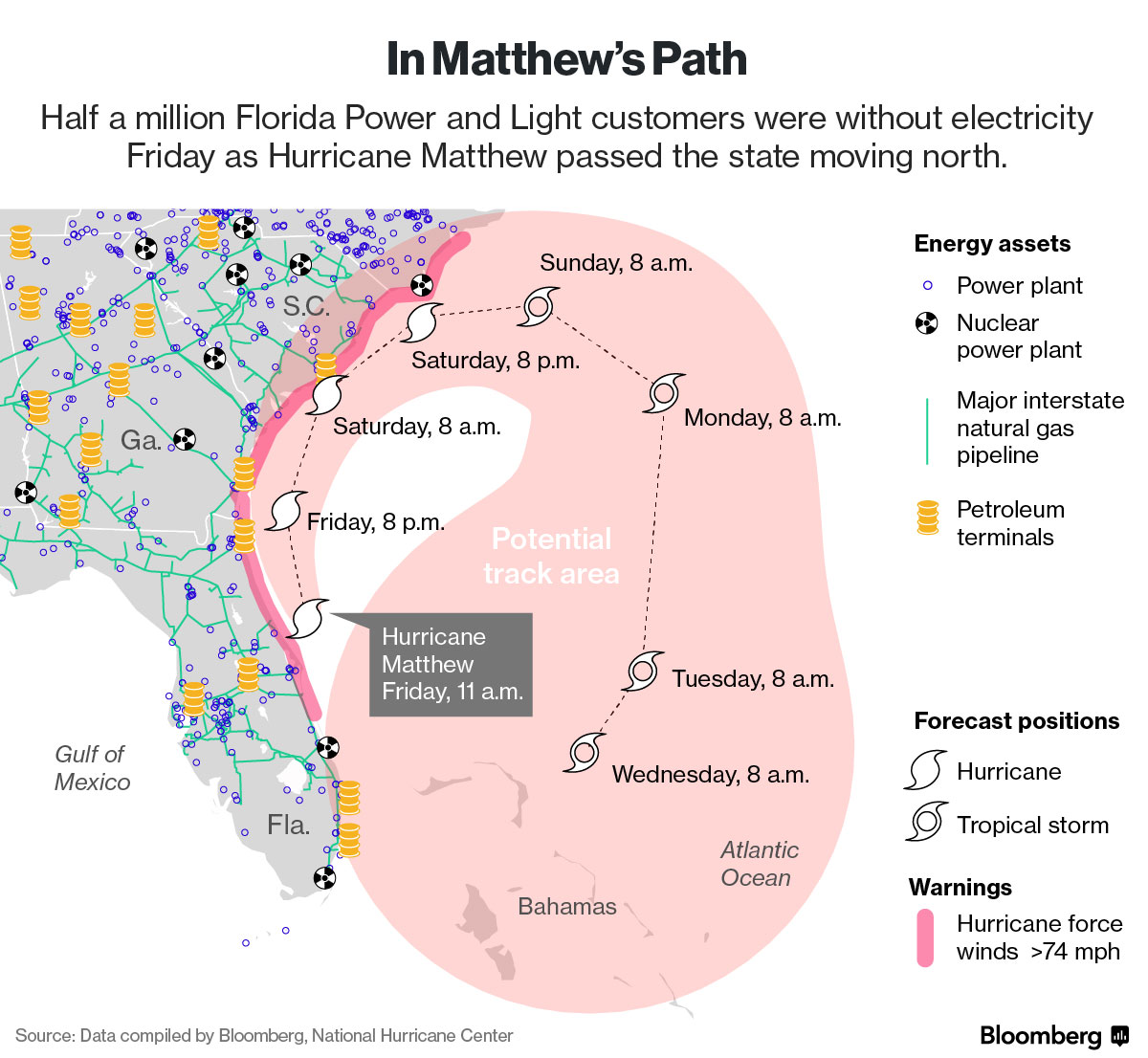 As many as 1 million utility customers remain in the storm's path, Eric Silagy, chief executive officer of NextEra Energy Inc.'s Florida Power & Light utility, said in a statement Friday.
"We are fortunate that Matthew has yet to make landfall in Florida," Silagy said. "Based on our grid's performance thus far, we're seeing fewer outages and faster restoration times."
Kinder Morgan Inc. shut its fuel terminal at Orlando, as well as the Central Florida Pipeline that supplies it with diesel and jet fuel from Tampa, company spokesman Richard Wheatley said in a Friday e-mail. The company also is evacuating and closing its liquefied natural gas import terminal near Savannah, Georgia, until the storm passes, he said.
Property Damage
Florida Governor Scott said Thursday that the state would have at least six days' worth of fuel supplies if all ports close and that individual retailers experiencing temporary fuel shortages were being "quickly refueled."
Meanwhile, Matthew has more than $1 trillion in property in its path, and there's a 25 percent chance of it causing more than $50 billion in damage, Watson said. At least 954,394 homes, with a value of about $189 billion, are at risk from storm surge, according to CoreLogic Inc., a property analysis consultant.
Twelve U.S. power generators, including two nuclear plants, are in the storm's path, according to data compiled by Bloomberg. NextEra Energy said it shut its St. Lucie reactor in Florida in anticipation of high winds.
"The bigger threat to the coast of South Carolina is storm surge and fresh water flooding damage, which will happen to South Carolina regardless of whether or not the eye moves ashore or remains just offshore," Masters said.
— With assistance by Sheela Tobben, Justin Sink, Erik Schatzker, Oliver Suess, Mary Schlangenstein, Mark Chediak, and Christopher Palmeri
Before it's here, it's on the Bloomberg Terminal.
LEARN MORE