How to Talk About Sex to Teens in Zambia
A design firm created health centers in disguise to teach teen girls about birth control.
By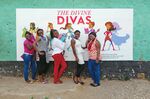 Sandwiched between a bakery and a grocery store in a bustling neighborhood of Lusaka, Zambia's capital, the Diva Centre is nothing fancy: a sparse room with some chairs and tables cluttered with magazines and bottles of nail polish. With teenage girls and young women coming and going, it could easily be mistaken for a nail salon.
The Diva Centre is actually a health clinic in disguise—the product of a collaboration between Marie Stopes International, a London-based family-planning organization, and Ideo.org, a nonprofit that specializes in applying design thinking to social problems.
Marie Stopes has a well-established presence in Zambia, providing services, including dispensing contraceptives, mostly in rural areas and largely to older, married women. But according to Zambia manager Nikile Njovu, the organization has struggled to reach adolescents, which make up only 17 percent of its clients. That's a critical gap in a country where almost 30 percent of girls become pregnant before their 18th birthday, according to the Zambian government's 2013-14 demographic and health survey. "They are a disenfranchised population that have to overcome barriers—cultural, religious, social, and economic—in order to make independent decisions about their reproductive health," says Njovu.

In 2014, the William & Flora Hewlett Foundation, one of Marie Stopes's funders, connected the organization with Ideo.org's co-founder and creative director, Patrice Martin. Part of the problem, her design team found, was semantic. Zambian teens didn't think they needed family planning services. They just didn't want to get pregnant. "We had to flip the question," Martin says. "Instead of asking, 'How do we get girls to reproductive health services?' we asked, 'How do we get the reproductive health services to the girls?' "
Founded in Palo Alto in 1991, Ideo, the nonprofit's parent, has extensive experience in designing products and services, with a client list that includes Apple, Ford, and Coca-Cola. For the Zambia project, which spanned a period of eight months, teams of three or four Ideo.org designers took three trips to Zambia. Initially they acted as observers, listening as more than 100 teens talked about their understanding (or often misunderstanding) of sex and reproduction. On their second trip, the designers began testing environments in which girls would feel more comfortable talking about these issues. They rented a space and got teens to pass out invitations to a "speak-easy" club to young women; another time they set out bottles of nail polish in an attempt to create a more relaxed, spa-like atmosphere. The last idea worked so well that they ran with it. "It was about creating a friendly space, one that is youth-centered," says Martin. "The centers are really about as far from a medical clinic as possible."
The project also involved branding: The Ideo.org team created a set of four aspirational characters called the Divine Divas, each with a personality and lifestyle suited to a particular type of contraception. The Perfectionist "never misses a party or an exam"  and she "never forgets to take her birth control pill." The Supergirl's IUD "makes her invincible and protected from pregnancy for a super long time."

The Diva Centres each see an average of 14 girls a day, a small but steady trickle that's added up to more than 11,000 teens, 75 percent of whom are now using contraception, according to Marie Stopes. "Initially, it wasn't easy to convince my fellow young girls to access information and services on sexual and reproductive health," says Catherine, a 22-year-old who works at the Diva Centres in Lusaka as a "teen connector," handing out pamphlets to teens on the street and talking to them about their contraception options. Catherine, who did not want her last name used, became pregnant during her senior year in high school. When she visited an abortion clinic, she was turned away by a nurse who told her that she had been careless and needed to learn her lesson. She says that some girls toss the pamphlets away and sometimes a parent or teacher will approach as she's talking with a teen and accuse her of promoting prostitution.
There are three Diva Centres in Zambia, two in the capital and one in the process of moving to the smaller city of Ndoka. Marie Stopes doesn't plan to open new ones, because it views them as most effective in urban settings. "The insights from the Diva model are still of great value," says program manager Njovu—one of them being that information on contraceptive services for teen girls "has to be packaged in a way that is attractive to them." Her group is working with Zambia's Ministry of Health to adapt those findings to rural areas. Meanwhile, Martin's team is in conversation with Marie Stopes's Kenya affiliate to figure out how the lessons from Zambia can be applied there.
 
—With Taonga Clifford Mitimingi
The bottom line: Ideo.org created centers where Zambian girls can get information about birth control in a fun and relaxed setting.
(
Corrects Patrice Martin's title in the fourth paragraph.
)
Before it's here, it's on the Bloomberg Terminal.
LEARN MORE