Hammond Plays Down Expectations of U.K. Fiscal Stimulus
by
Says 'modest' investments often deliver the best returns

Says decisions will depend on data before Autumn Statement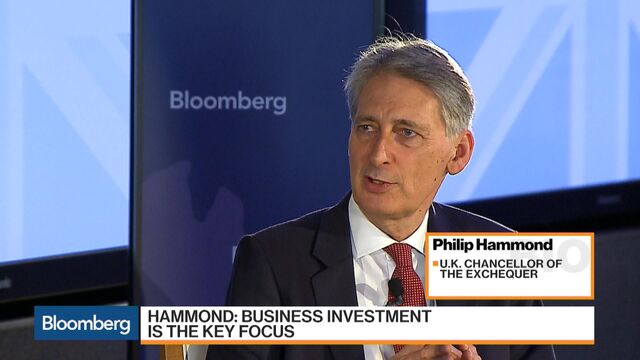 U.K. Chancellor of the Exchequer Philip Hammond cautioned the Treasury may not immediately embark on fiscal stimulus measures.
While the U.K. was likely to go through a period of turbulence as it adjusts to leaving the European Union, specific action in the Autumn Statement on Nov. 23 or his March Budget would depend on economic data at the time, Hammond said. The chancellor has said the government is no longer targeting a budget surplus by the end of the decade.
"What I have set out and I described is a framework that creates the space," Hammond told reporters in Washington on Friday. "It should not be read as implying we will definitely take any course of action in November or indeed next March. That would entirely depend on what the situation is at the time."
Hammond's comments follow increased speculation the government would use fiscal measures to stimulate the economy after Prime Minister Theresa May on Wednesday said central banks and their ultra-loose monetary policies had helped to widen inequality. The pound saw its worse weekly decline since 2009, partly due to fears of a hard Brexit.
Turbulence Seen
"Clearly there will be a period of turbulence," Hammond said. "Although the economy is resilient going into that period we have to expect and plan for the ups and downs we've seen over the last 24 hours, for perhaps a couple of years while we're negotiating the terms of our exit."
Hammond said that the government will aim to invest in modest infrastructure projects, which he said often deliver the best returns, and that economic data published before the Autumn Statement would inform his decision.
"I'm talking about publicly funded economic infrastructure that is generally recognized by economic analysts to have a positive impact on the productivity performance of the economy," he said. "We would be looking to target investment that has the biggest returns. Very often those are quite modest projects that deliver the highest returns."
Before it's here, it's on the Bloomberg Terminal.
LEARN MORE