Four Charts That Show What Exploding Galaxy Note 7 Phones Really Mean for Samsung
by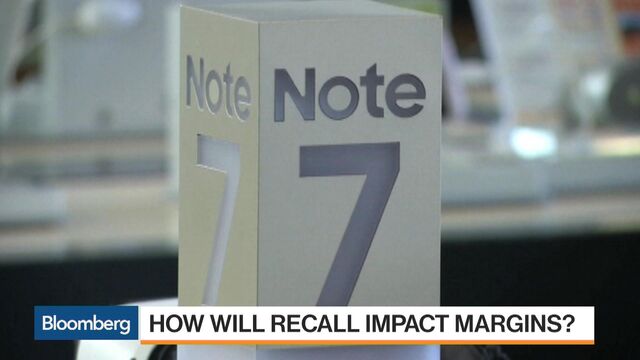 Samsung Electronics Co. is making its way through the Galaxy Note 7 debacle relatively intact.
On Friday, the South Korean company posted 7.8 trillion won ($7 billion) of operating profits for the third quarter. While it's a 4.2 percent drop quarter-on-quarter, the figure was higher than the 7.58 trillion estimated by analysts in a Bloomberg survey, and represents a 5.5 percent jump versus the same quarter of 2015. That's helped the company more-than erase the knock to its share price inflicted by the exploding-phone scandal: Samsung's shares were trading 0.9 percent higher at a record of 1.706 million won as of the Seoul close. 

The company's earnings had been recovering from a 2014 trough but were marred by the launch of the new Galaxy Note 7 model. Just days after the phones arrived on Aug. 19, images and videos of exploding batteries and charred phones surfaced online. Samsung's top management held a press conference in Seoul on Sept. 2, announcing that the company would replace all 2.5 million phones that had already shipped worldwide.
The news sent its shares tanking, shaving $22 billion off over just a couple of days mid-September. Its stocks had been solidly up this year as investors bought into rosier prospects for both the premium Galaxy S7 smartphone and the Korean company's components businesses. 

The massive recall of one of Samsung's flagship devices, for which analysts expect the company to set aside at least $1 billion to $2 billion, had analysts pulling back on their profit forecasts for the third quarter.
For example, Hana Financial Investment Co. slashed its operating profit forecast of Samsung's IT & Mobile Communications (IM) Division to 2.31 trillion won for the three months that end Sept. 30. That was 43 percent lower than the 4.04 trillion won they had forecast before the disastrous rollout took place.

"Because of the battery issue, we took into account a reduction in sales target as well as the recall cost," wrote Roko Kim, Hana analyst, in a Sept. 29 report.
But a more important question, analysts say, is what's next as the world's largest smartphone vendor recovers from monetary and psychological damages wrought by the Note 7.
"How much this recall has affected Samsung's reputation depends on how many new Galaxy S8 phones Samsung can sell," said Greg Roh, analyst at HMC Investment Securities, in an interview. The new models are scheduled to be launched in the first quarter of next year.
He added that due to the Galaxy Note 7 recall and a muted reaction to the new iPhone 7/7+ from Apple Inc., consumers are more likely to delay their purchases of new phones until both companies introduce their respective next flagship smartphones.

"While Samsung is slowly recovering from the shock in the domestic market, consumers overseas are still very cautious," said Roh.
He reckons that Samsung will have to set aside more money to promote the Galaxy S8 than the S7. But, he concluded: "if the sales of the S7 and its following models turn out to be good enough, we can then say Samsung successfully overcame the crisis."
Before it's here, it's on the Bloomberg Terminal.
LEARN MORE