Fed's Fischer Says Job Gains Contrast With Poor Growth in U.S.
by and
Vice chairman: Average hourly earnings closer to 3 percent

Says growth isn't close to what used to be viewed as 'normal'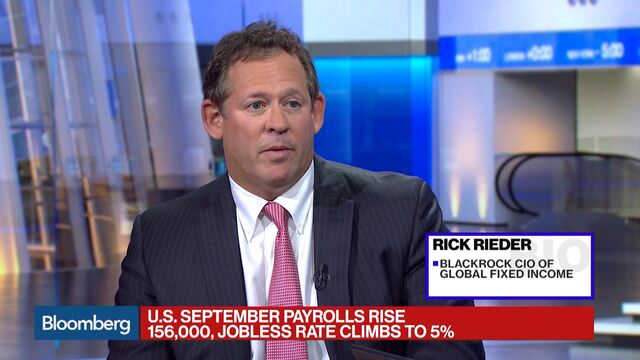 Federal Reserve Vice Chairman Stanley Fischer said U.S. job creation was continuing at a pace "fully consistent" with lower unemployment, but continued to contrast with a weak overall economic expansion.
Hours after the Labor Department reported that U.S. employers added 156,000 people to payrolls in September, Fischer said joblessness was close to its lowest sustainable level. Still, he added, "growth isn't close to what we used to think of as normal."
"The problem in the economy is the difference between the remarkable success of policy at reducing unemployment," and "the very low rate of growth" in gross domestic product, said Fischer, speaking Friday at a banking conference in Washington.
Unemployment ticked up to 5 percent in September as better job prospects drew more Americans into the workforce. That continues a string of strong reports with employers adding an average 178,000 posts per month in 2016. Annualized GDP growth has averaged about 2 percent in the last six years.
Fischer noted that a 2.6 percent gain in average hourly earnings in the year ending in September was "closer to 3 than it is to 2" percent. Gains in average hourly earnings were 3.2 percent, on average, in the two years preceding the recession.
December Hike
Many economists see the Fed on track to raise interest rates by a quarter percentage point before the end of the year, most likely in December. Fischer didn't discuss his views on when the Fed should next raise rates.
The probability of a December rate hike, inferred from prices for federal funds futures contracts, edged up to 66 percent Friday following the employment report.
Fed policy makers left their benchmark interest rate unchanged in September for the sixth straight time, though the decision came over the objection of three voters on the Federal Open Market Committee. The trio, including Boston Fed President Eric Rosengren, urged the central bank to move forward with gradual rate hikes to prevent a tightening labor market from triggering much higher inflation.
Before it's here, it's on the Bloomberg Terminal.
LEARN MORE