ECB's Visco Says Majority of Italian Banks Are 'Doing Fine'
by and
Bank of Italy governor speaks in Bloomberg TV interview

Issue of non-performing loans should not be overestimated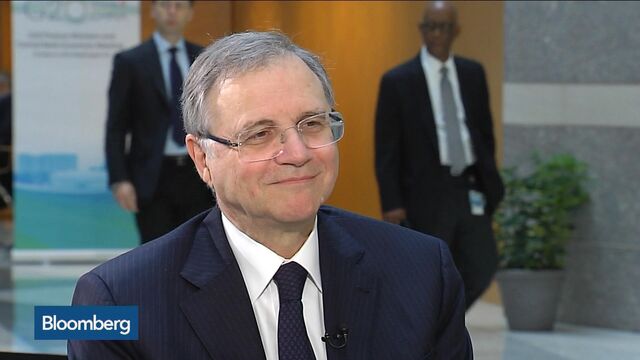 European Central Bank Governing Council member Ignazio Visco said that concerns about the overall health of Italy's financial sector are overblown.
"Talking about Italian banks as if all banks in Italy had problems is wrong," Visco said in an interview with Bloomberg TV on Friday. "There are a substantial number of banks in Italy that are doing fine."
Italy is struggling to fix a crisis legacy of 360 billion euros ($403 billion) of soured loans in its banks' balance sheets that is holding back credit and weighing on the country's weak recovery. Visco said that the problem won't be solved before a Dec. 4 referendum that poses major risks for Prime Minister Matteo Renzi.
The issue of non-performing loans is "serious but should not be overestimated," he said. "My impression is that credit is not picking up very strongly, even if better than last year, almost exclusively for demand reasons."
Financial Crisis
The amount of Italian banks' troubled loans is equal to about a quarter of Italy's gross domestic product. Lenders have lagged behind their European counterparts in reducing bad loans since the 2008 financial crisis as the country's longest recession since World War II left businesses and households struggling to repay debt.
Since he took office in 2014, Renzi has pushed for reforms to modernize Italy and spur growth. The government also backed a fund to rescue banks and tackle troubled and defaulted loans, in addition to working behind the scenes on revamping Italy's bailed-out Banca Monte dei Paschi di Siena SpA.
Visco, the head of Italy's central bank, is in Washington to attend the annual meetings of the International Monetary Fund and the World Bank. While the troubles of Deutsche Bank AG are looming large over policy makers discussions, he said the low-rates policies adopted by many central banks worldwide are not to blame for lenders low profits.
Low Rates
He said that "in principle" he worries that low rates hurt banks, but in practice the ECB doesn't have any proof that they have affected the profitability of banks. "Overall there is no evidence of that but we cannot stay with negative rates forever," he added.
Visco said that there have been no talks about unwinding the ECB's quantitative-easing program that is currently scheduled to run until March 2017, or longer if warranted by the inflation outlook.
"We never talked about tapering, neither officially nor unofficially, in the corridors, in the rooms, nothing," he said. "We have been making very clear that we have this program in place until the end of March and beyond if needed."
Earlier this week, Bloomberg reported that ECB policy makers were nearing an "informal consensus" that purchases would be tapered and not stopped altogether when the time came to start an exit from the program. Visco said officials will extend the program if necessary.
"It depends on the way we see inflation moving these months," he said. "There is mixed evidence. Growth has been pretty slow but at the same time we are seeing these oil prices that are not continuing to go down, they are stabilizing."
Before it's here, it's on the Bloomberg Terminal.
LEARN MORE