politics
Clinton, Trump Veer Away From Traditional Culture War Topics
By
Abortion, gay rights superceded by debate on race, gender

Town hall-style second debate gives public shot at questions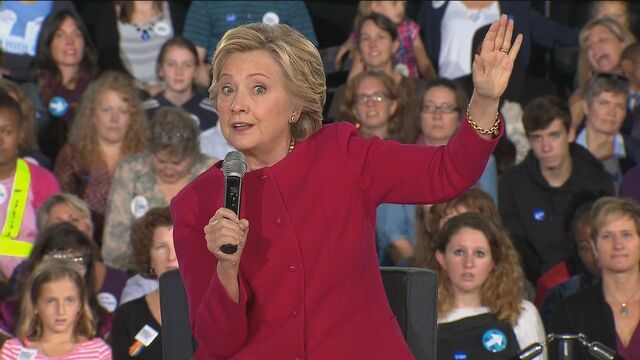 Hillary Clinton and Donald Trump have mainly steered around the hot-button issues that long have defined America's culture divide -- abortion, gay rights and religion. The new social battle lines are being drawn instead on race, gender and immigration.
Both candidates are reflecting a broader societal shift that is apparent in the questions from the public being submitted for their town hall-style debate Sunday night in St. Louis. Among the proposed questions with the most votes on one of the websites compiling them are on gun control, Social Security, as well as climate change and health care.
A new generation of voters with different social norms is partly behind the shift. Another major influence is the Republican nominee.
"Cultural issues have never been a big part of Donald Trump's agenda," said Whit Ayres, a Republican pollster who made headlines last year when he advised Republican presidential candidates of the perils of being seen as anti-gay. While social issues have been a mainstay of Republican campaign in the past, Ayres said Trump "basically has focused his entire campaign on issues like trade, immigration, the economy."
Trump's Issues
Trump, 70, has made traditional appeals to Christian conservatives on their terms. He's promised to nominate "pro-life" justices to the U.S. Supreme Court and change the tax code to let religious leaders endorse or oppose political candidates without risking their tax-exempt status. But he's been on the other side of the abortion issue in the past and during the campaign expressed support for gay rights and backed expanded access to birth control. He has called for ending federal funding for Planned Parenthood as long as it provides abortion services but also spoken favorably about other work the organization does.
"He is not a particularly great candidate to be carrying the social issue message because he has been all over the map, particularly on the abortion issue," Ayres said. "I presume that the Clinton campaign has decided that if they can blunt Trump's message on the issues that he has highlighted that they have no particular need to re-litigate the various issues that have so dominated campaigns in the past."
Traditional Stance
Clinton, 68, hews to the Democratic line in support of abortion rights, expansion of rights for same-sex couples and keeping religion separate from governance. But her main line of attack against Trump has been on issues that he's raised or where her campaign views him as most vulnerable: immigration, his past comments about women and how to deal with racial tension.
Todd Gitlin, a sociology and journalism professor at Columbia University in New York who has written extensively about the cultural battles in U.S. politics, said Trump has tapped into issues that still raise anger among some voters in a way that other topics that have animated political debate no longer do.
"There is useful animus for him to mobilize on questions of race and immigration," Gitlin said. Although there is a grudging consensus on abortion rights, "most of the country is not so clear on immigration. It seems like the last decade's crusade where race-slash-ethnicity are good pander material. There's a ready-made base."
Since the Supreme Court's 1973 ruling legalizing abortion, Republicans have used abortion as a motivating issue for voters. Until a discussion near the end of this week's vice presidential debate between Democrat Tim Kaine and Republican Mike Pence, the topic has only come up when Clinton or Trump select groups.
The degree of voter interest in social issues will be measured in the second of three debates between Clinton and Trump Sunday at Washington University. As has become a tradition, this encounter will be in the form of a town hall, with questions coming from members of the audience as well as the moderators, Martha Raddatz of ABC News and Anderson Cooper of CNN.
About 40 uncommitted voters, screened by the Gallup Organization, are set to prepare with questions they want to ask and will work with moderators to narrow down to as many as dozen that will be posed to the candidates. The moderators also will consider questions drawn from public input on PresidentialOpenQuestions.com.
Clinton's schedule has Friday and Saturday set aside for preparation. Trump got in some practice taking questions from an audience twice this week, including a town-hall event Thursday night. He was also working with New Jersey Governor Chris Christie, a political ally who has extensive experience with the format.
— With assistance by Laurence Arnold
Before it's here, it's on the Bloomberg Terminal.
LEARN MORE