Canada Churns Out Most Jobs Since 2012 to Shake Off Oil Woes
Greg Quinn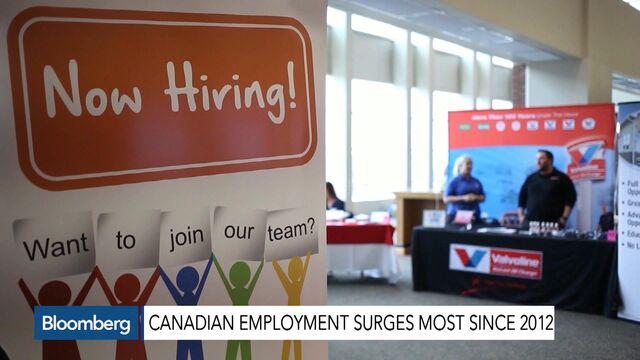 Canadian employment grew by the most in more than four years in September, signaling lower interest rates may not be needed to sustain a sluggish recovery from the commodities bust.
Employment jumped by 67,200, Statistics Canada said Friday in Ottawa, the most since April 2012. The increase was triple the highest estimate in a Bloomberg economist survey that had a median prediction of 7,500 new positions.
The labor market is holding up even as oil and gas companies continue to cut costs to deal with lower commodity prices. The durability of job gains remains to be seen, however. Bank of Canada Senior Deputy Governor Carolyn Wilkins said in a speech Thursday there is more slack in the labor market than the unemployment rate would suggest.
"Overall, a very strong number, but we doubt it will be the start of a new trend," Charles St-Arnaud, an economist in London at Nomura International Plc, said in a note.
The Canadian dollar erased declines after the report, trading little changed at C$1.3221 versus the U.S. dollar at 8:49 a.m. Toronto time. It had been down 0.6 percent in the moments before the report was released. Bond yields rose.
The job gains weren't enough to nudge down Canada's 7 percent unemployment rate, as the labor force grew by 69,000 people, Statistics Canada said.
Hourly Wages
Average hourly wages of permanent employees rose 1.6 percent in September from a year earlier, matching the August pace that was the slowest in almost two years.
There were nonetheless some clear winners in the job market in September. Employment rose by about 38,000 for women aged 55 and up, for a gain of 7.5 percent over the last 12 months. Quebec's unemployment rate fell to 6.9 percent from 7.1 percent to the lowest since the start of 2008, as the French-speaking province added 38,300 jobs.
To be sure, the bulk of the jobs added in September were in the less stable part-time and self-employment categories.
Part-time work increased by 44,100 and full-time by 23,000. Self-employment increased by 50,100 on the month and those categorized by Statistics Canada as employees rose by 17,000.
Service-industry employment rose by 55,500, including 18,900 public administration jobs and another 16,700 in the education category.
(Updates with analyst comment in fourth paragraph.)
Before it's here, it's on the Bloomberg Terminal.
LEARN MORE