Afghanistan's No-Show Soldiers Challenged by a U.S. Watchdog
By
Gaps between payrolls and troops in the field cited by Sopko

Special inspector asks Pentagon chief what steps he's taking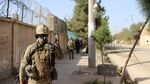 Some of the $68 billion the U.S. has spent since 2002 to support Afghanistan's military may have been wasted on "ghost" soldiers and police who exist only on paper, according to a government watchdog who pressed the Pentagon to do more to stop such abuses.
John Sopko, the U.S. special inspector general for Afghanistan reconstruction, sent a letter to Defense Secretary Ash Carter asking for a "detailed update on all DoD efforts to strengthen the use of electronic and biometric systems, to identify and eliminate the problem of 'ghost' soldiers and police nationwide, and specifically in Helmand Province."
In an initial response, Jedidiah Royal, acting deputy assistant secretary of defense, said the Defense Department is "cleaning" its data to remove names that were no longer active. It's also implementing a system linking soldiers' paychecks to biometrically certified cash cards, he said.
At a conference in Brussels this week, leaders from more than 70 nations promised more than $3 billion a year in development support for Afghanistan through 2020. It was an acknowledgment that the country remains far from paying its own way as its leaders battle a resurgent Taliban and challenges including corruption.
Related story: Afghanistan Wins More Financial Aid
Sopko has long campaigned to curb endemic corruption that he says continues to undermine the fight against the Taliban 15 years and more than 2,200 combat deaths after the American invasion of Afghanistan. U.S. officials have estimated that the Taliban control territory occupied by about 10 percent of the Afghan population, with an additional 20 percent of the country's 30.5 million people in contested areas.
In the letter to Carter, sent in August but released Friday, Sopko said the new police chief of Helmand Province has been quoted as stating that of about 26,000 Afghan forces assigned to the province, 40 to 50 percent "did not exist physically when we asked for help during operations." Helmand has been a prime Taliban target.
While the U.S. estimated an Afghan force strength of 319,595 at the end of June, Sopko wrote, an Afghan official told the Associated Press that "the best internal estimate put the number around 120,000, less than a third of what is needed to secure the country."
In January 2015, Sopko wrote, his office reported that "more than $300 million in annual, U.S.-funded salary payments to the Afghan National Police were based on only partially verified or reconciled data, and that there was no assurance that personnel and payroll data were accurate." Similar gaps were discovered in an audit that April of the Afghan National Army.